AMT - Agence Metropolitaine de Transport
(Edited by Jean-Francois Turcotte and William H Baird)
amtnews@canadianrailwayobservations.com
Montreal REM Light rail Proposal
The Caisse de Depot et de Placements du Quebec (CPDQ)'s light rail project was officially unveiled to the public on April 22, 2016. The Reseau Electrique MontrEalais (REM) would stretch from Brossard's DIX30 Power Center on the South Shore to Deux-Montagnes on the North Shore , with branches running to the Dorval Trudeau airport and along A40 in the West Island to Ste-Anne-de-Bellevue.
As expected, CPDQ would build and operate an automated light rail metro line on the new Champlain Bridge (set to open by the end of 2018) to replace an existing and overcrowded busway operating on the current Champlain Bridge. The line would then operate on a mostly underground alignment to reach Central Station. This choice is obviously inspired by Vancouver's Canada line, in which CPDQ has a stake.
The End of the AMT Deux-Montagnes line?
A far more controversial aspect of the plan would see CPDQ absorbing AMT's popular Deux-Montagnes electric commuter rail line and fully convert it to a light rail automated metro line. This also includes AMT's brand-new Mascouche line, which would be forced out of its downtown terminal, with riders forced to transfer to the REM at a new station to be built near Jct de l'Est.
The conversion of the Deux-Montagnes line to a light rail metro would involve major alterations to infrastructures:
Rebuilding of all stations with 80-meters long high-level platforms. The line currently uses 260 meters-long low-level platforms.
Complete replacement of rails and ties for light rail operations.
Replacement of the CTC with a communication-based signaling system.
Double-tracking of all single-track sections, including bridges over Riviere des Prairies and Riviere des Milles Iles.
Closure of all fifteen grade crossings on the line.
Replacement of the existing 25 kV AC60Hz electrification by a new 1.5kV DC system.
The Deux-Montagnes line would operate on a 6-minutes headway. The Airport and West Island branches would operate on a 12-minutes headway, with a combined 3-minutes headway on the common section through Ville St-Laurent and the Mount Royal tunnel.
CPDQ's official video presenting its project:
https://www.youtube.com/watch?v=2-H5hq-1yS0
The following pdf document (in French) contains further technical information:
https://www.cdpqinfra.com/sites/all/files/document/avis_au_marche_fr.pdf
All this comes with a 5.5 billion price tag, with CPDQ kicking in 3 billions and the rest expected to come from various levels of government funding.
A Terrible Day for Rail Transportation in Montreal
While CPDQ's proposal won praise from elected officials, transit enthusiasts and economic stakeholders, evidences are emerging that CPDQ's radical proposal to seize the Mount Royal tunnel rail line was pushed forward without consulting any existing agency currently operating rail service in the Montreal area (notably AMT and VIA Rail). As currently proposed, the REM will have a far-reaching impact that can severely harm the future of rail transportation in the Greater Montreal area. Not only will the REM lead to expensive asset write-downs that will amount to major waste of taxpayer-funded investments, its lack of interoperability with the conventional rail network will greatly restrict any future development.
Adieu, Mascouche?
The major casualty of the REM would be AMT's Mascouche line, which was built at a cost of 671M$ and opened less than two years ago. Without its direct connation with downtown, Mascouche line riders will be forced to either connect with the Orange mEtro line at SauvE (itself already overcrowded) or with the REM near Jct de l'Est. Since an 8-car Multilevel trainset can seat more 1121 people, one has to wonder how these will fit in a 4-cars light rail metro that can transport only 600 people (most of them standing), and that will likely be crowded with Deux-Montagnes, Airport or West Island riders.
A likely outcome is that ridership will severely drop on the Mascouche line when the REM cuts if short out of Central Station, potentially threatening its viability. The Mascouche trains will also be unable to reach the future Pointe St-Charles maintenance center. Speaking of which an (almost) empty Maintenance Center.
MT is currently building a major commuter train maintenance center in Pointe St-Charles, at a cost of 320M$. This center would have hosted Deux-Montagnes, Mascouche and St-Hilaire trains is (was?) expected to open in 2018, with construction work well under way.
By closing the Deux-Montagnes line and cutting the Mascouche line short, AMT's brand-new maintenance center will end up hosting only the St-Hilaire trains. CPDQ has stated it could try using the center for its own needs, but it's hard to foresee how a maintenance center, already under construction, and designed for heavy-rail vehicles, could ever be modified to host a mix of heavy rail and electric light rail automated vehicles, both operating on separate networks with completely different technologies.
No More Train de l'Ouest.
For years, AMT has been advocating major capacity enhancement to the Vaudreuil-Hudson line, notably building dedicated, electrified tracks. CPDQ has no intention of converting the Vaudreuil-Hudson line to REM, instead choosing to build the light rail through an industrial area along A40. This will likely cannibalize the Vaudreuil-Hudson line's ridership, which could lead to service reduction.
Overcrowded From the Start:
Evidence is mounting that the CPDQ's choice of automated light rail technology may not be adequate for the projected ridership of the REM.
The short length of the trains (80 meters) and the small capacity of the light rail vehicles (compared to a MR-90 or Multilevel train sets) will make it, despite the projected 3-minutes headway (which itself will make the REM's operations very sensitive to any disturbance).
In the following link, blogger and transit enthusiast Anton Dubrau discusses the many shortcomings of CPDQ's questionable choice of technology for the REM to handle the projected ridership.
CPDQ has so far refused to publish their ridership projection for the REM.
Summary of AMT Assets to Write-off:
Capacity aside, there are many more reasons to question the CPDQ's choice of rail technology for the REM. Its radical incompatibility with the existing rail network is a strong disavow of every investment made by AMT in the past two decades. It will force expensive write-downs of equipment and infrastructure, some of which not even yet in service.
Among these: 58 MR-90 electric multiple units, now 22-years old (at about 50% of their expected service life). Twenty ALP-45DP dual mode locomotives, purchased in 2009 at a cost of almost 15M$ a piece for specific use in the Mount Royal tunnel. This is more than twice as expensive as a conventional diesel locomotive. AMT will have no use for expensive dual-mode locomotives when deprived from its only electric line. 160 Bombardier Multilevel cars, purchased at a premium in 2009 for specific use in the Mount Royal tunnel. Conventional Bilevel cars would have been less expensive to buy and operate, and would have offered more capacity.
AMT had purchased CN's Deux-Montagnes subdivision in 2014 at a cost of 92M $. AMT's Mascouche line (671M$) - threatened as a whole by the lost of its downtown connection.
AMT's Vaudreuil-Hudson line - whose ridership may be cannibalized by the West Island branch of the REM. The Deux-Montagnes line itself was fully rebuilt in 1993-1995 with new stations, rails, ties, ballast, electrification and CTC, all of which at less than half their life expectancy. The whole infrastructure will have to be torn down for the conversion to REM, as the light rail metro technology cannot re-use any of the existing infrastructure.
The afore-mentioned 320M commuter rail maintenance center under construction in Pointe St-Charles
So in the end, 5 billion $ will be spent on converting a heavy rail line to a light rail line, with insufficient capacity, and which will render useless billions of recent commuter rail investments. Plucked Quebec taxpayers will certainly appreciate CPDQ's alacrity in "improving" their transit network.
Lost Opportunities - St-Jerome and Quebec
For years, AMT has planned to reroute the St-JErome line from Lucien l'Allier to Central Station, running through the Mount Royal tunnel, with a underground connexion built from the Rockland viaduc to the tunnel near the site of the proposed Edouard-Montpetit station.
This would save at least 15 minutes per trip and would have greatly enhanced service on the line, which could then be partly or fully electrified.
The same tunnel could also be used by VIA Rail to reach Quebec-Gatineau's Trois-Rivieres subdivision. For years, VIA has been planning to reroute the Quebec trains on a faster route on the North Shore, avoiding interference with CN's freight trains on its South shore line through Drummondville. Using the Mount Royal tunnel would fit right with VIA's High-Frequency Rail plan, which involves building its own electrified tracks isolated from CN and CP's network.
With the REM, both opportunities will forever lost. St-JErome line riders will have to endure the current circuitous route through Cote St-Luc, with potential interference with CP freight trains on its Adirondack subdivision. And VIA Rail will never, ever, be able to improve service on its Montreal-Quebec route, which may eventually become irrelevant and disappear.
More missed opportunities.
One would think that converting the Mount Royal tunnel to light rail would be the perfect moment to finally build the projected Edouard-Montpetit and McGill intermodal stations (link in French). These would directly link the future REM with the Blue and Green metro line respectively and would greatly enhance the connectivity of the transit network.
The idea of building such stations has been floated around many times, but the high price tag has chilled any hope of ever starting the project.
CPDQ lists both stations as "projected" under its plan. As they have been for the past 20 years or so.
CN's Doney Spur:
Five days a week, CN runs local train L56421 to serve customers on the Doney and St-Francois spurs. This train must use the Deux-Montagnes line between Jct de l'Est and Val Royal to reach the spur. The very short REM headway and its incompatible light rail technology means that a full temporal separation will be required for CN to continue using the line. The short window during which CN will be able to run on the Deux-Montagnes line will be less than four hours a night. However, train L564 21 currently requires a full eight-hour shift to complete its run from Taschereau to the Doney Spur, and back. The most likely outcome is that CN will apply to abandon the spur, and the customers will be forced to relocate or switch to truck service.
This is a rather minor casualty of the REM, but rail freight nevertheless should never be negatively impacted by a passenger rail or transit project, as rail freight's economic and ecological benefits generally exceeds passenger rail's.
A better Alternative?
It is hard to understand how CPDQ, or anyone, could ever come up with a project that could be so harmful for rail transportation in the Greater Montreal. Alternatives to the questionable light rail metro technology proposed by the CPDQ exist though. High capacity electric commuter trains running on a slightly longer headway (e.g. 6 minutes) would provide a similar service quality, while offering a higher theoretical long-term capacity and, even more important, preserving the interoperability of the tunnel. VIA or AMT could insert a train between CPDQ's trains if a longer headway is used. Examples of such mixed networks exists: the London Overground network for instance, or Metrolynx's future Regional Express Rail in Toronto.
An example of high-capacity and high-frequency metro-like rail service can also be found in many Australian cities such as Sydney, Brisbane and Melbourne (see photo).
Montreal's next Electrified Light Rail Train Sets Begin Tendering
On June 28th, 2016 CDPQ Infra, Canada, published two requests for qualification for its $C5.5 billion ($US4.26 billion) Metropolitan Electric Network (REM) project in Montreal to qualify candidates to bid for two contracts to build and equip the automated rail network. The two contracts comprise the $C4 billion engineering, procurement and construction contract and a $C1.5 billion contract covering the rolling stock, systems, operation and maintenance. CDPQ Infra will qualify up to three respondents to bid for each contract. The deadline for submissions is August 26. CDPQ Infra, which is a subsidiary of institutional fund manager Caisse de Depot et Placement du Quebec, will be responsible for financing the project and will be the owner of the 67km network serving 24 stations. The Quebec provincial government is considering whether to contribute to the completion of the project and the involvement of the Canadian government is also being sought. The existing AMT Montreal - Deux-Montagnes commuter line will become part of the new network and will be upgraded and extended to Brossard, Trudeau Airport and Sainte-Anne-de-Bellevue. New tunnels totalling 5.4km and 16km of elevated railway are required. The project also involves the provision of nine bus terminals and 13 park-and-ride facilities. The network will be fully automatic with driverless operation and electrified at 1.5kV dc overhead. Station platforms will be 80m long and equipped with platform screen doors. WiFi will be provided throughout the network. A fleet of 200 cars will be required operating as two-car trains off-peak and four-car sets during peak periods. Trains will operate at 3-minute headways on the core section of the network. The 3m-wide trains will have a maximum speed of 100km/h and a design speed of 110km/h. They must be able to operate in temperatures ranging from -40oC to 50oC. The network will be equipped with communication-based train control (CBTC) to enable trains to operate in driverless mode at automation grade GOA4, with SIL4 train movement safety. (From Railway Age June 28th, 2016).
Metrolinx/ GO Transit/ LRT/ TTC News Editor - JOHN S. JEFFERY
Please submit your Metrolinx/GO Transit/LRT/TTC News and photos to wce1942@gmail.com
TRANSIT AROUND THE GTA -- AUGUST 2016
With files from Kevin Argue - CRO Contributor
Metrolinx Threatens Legal Action Over Late Delivery Of Light Rail Vehicles
Metrolinx issued a notice of default to Bombardier last week that claims the Quebec-based rail manufacturer is in breach of contract, according to a source.
By Ben Spurr Transportation Reporter - Wed., July 20, 2016 https://goo.gl/qywRf4 - thestar.com
Toronto Council Backs Key Aspects of City's 15 Year Transit Plan
July 13, 2016 11:09 pm by David Brake
Excellent summary and map of the five transit projects approved on July 13th, 2016 by Toronto Council.
http://goo.gl/TKsJ6i - urbantoronto.ca
Metrolinx Takes First Steps Towards Stouffville GO Line Upgrades
July 6, 2016 2:20 pm by David Brake
http://goo.gl/yZw2l1 - urbantoronto.ca
Richmond Hill Pushes For Yonge Subway Extension
Posted by Derek Flack JULY 6, 2016
http://goo.gl/6CpIVV - blogto.com
GO Trains Come With A Touch Of Grey
By Grant LaFleche, The Standard, Wednesday, June 29, 2016
St. Catherines Media Comment on the Announcement that GO Train service is being extended to Niagara.
http://goo.gl/LA60NK -stcatherinesstandard.ca
GO News Is Good News
By Maryanne Firth, St. Catharines Standard, Wednesday, June 29, 2016
Comments from local Niagara Leaders regarding the Announcement of GO Niagara Train service.
http://goo.gl/3LaZkE -stcatherinesstandard.ca
DEL DUCA: Niagarans Deserve 'Nothing Less' Than GO
Steven Del Duca, special to Postmedia Network Tuesday, June 28, 2016
http://goo.gl/ClOV1M - stcatherinesstandard.ca
Liberty Village: Exploring The Location Of A Smarttrack Station
June 23, 2016 3:20 pm | by Stefan Novakovic
http://goo.gl/xh14qO - urbantoronto.ca
GO Transit Fleet
Diesel-Electric Locomotives-
F59 - EMD - EMD 710G3A engine - 12 Cylinder 3000 HP
| | | | | |
| --- | --- | --- | --- | --- |
| Year | Manufacturer | Model | Numbers | Notes |
| 1990 | | F59PH III | 557-561 | Rebuilt 2011 for continued service |
| 1990 | | F59PH IV | 562-564 | Rebuilt 2011 for continued service |
Source: GO Transit infrastructure - https://goo.gl/XvgjEp
Here is F59PH Phase IV GO 563 at the Oshawa GO Station on February 14th, 2016, getting ready to power a westbound L10L train to Union Station and Aldershot. L10L trains use a F59PH at each end of a ten car train and on this day the F59PH on the west end of this train was GO 557. Eight F59PH units were rebuilt in 2011 for continued service with these type of trains.
MP40PH-3C - Tier 2 - EMD 710GB engine - 16 cylinder - 4,000HP
Series Number - 600 - 656
Units 607 and 615 have been repainted into the new Metrolinx livery.
Unit 647 has been rebuilt into the prototype for new model MP40PHT-T4AC.
Here is Tier 2 MP40PH-3C GO 639 leading an eastbound train, into the Whitby GO Station on the Lakeshore East line, on Sunday, July 17th, 2016. This unit was part of the second batch of 20 Tier 2 MP40PH-3C units to be delivered between 2009 and 2010. The only tier 2 units from GO 600 through GO 656 to be repainted into the new Metrolinx paint scheme so far, are GO 607 and GO 615.
MP40PH-3C - Tier 3 - EMD 710GB engine - 16 cylinder - 4,000HP
Series Number - 657 - 666 -
These units have an extra cooling radiator on the roof, behind the cab, in order to meet Tier 3 emission standards. GO 661 to 666 are painted in the new Metrolinx livery
Here is Tier 3, MP40PH-3C GO 662, leading an eastbound train into the Pickering GO Station on the Lakeshore East line, on Sunday July 17th, 2016. It has an extra cooling radiator on the roof, just behind the cab, in order to meet Tier 3 emission requirements. It is one of the last ten MP40PH-3C (657 - 666) units ordered, and like its sister units 661, 663, 664, 665, and 666, wears the current Metrolinx paint scheme. Units 657 through 660 of this last order, were delivered in the previous GO Transit paint scheme, and all ten units in this order are Tier 3 compliant.
MP40PHT-T4AC (MP54PH) - New Tier 4 Model
Supplier: Motive Power Industries (Wabtec) - Boise, Idaho
Series Number Build Date
667 - 682 2017
Note: Tier 4, AC traction, twin Cummins QSK 60 2700 HP engines, combined horsepower rating 5400 HP
Source: Mark Ostler - Metrolinx
Here is Tier 4 MP40PHT-T4AC (MP54PH) prototype GO 647 at the Oshawa GO Station on May 12th, 2016, conducting fuel consumption and conservation tests in the consist of a Lakeshore line train. It is equipped with twin 2700 HP Tier 4 Cummins QSK 60 medium speed 1800 rpm diesels and you can see the two sets of radiators and cooling fans. The dynamic brake unit is at the rear of the car body and there is no HEP unit, with the HEP power being supplied from either or both of the main alternators, as required. Today it is accompanied by protection unit, Tier 3 MP40PH-3C GO 666 (The devil engine), which was idling but offline.
Passenger Car Fleet - Updated July 21st, 2016
GO CEM (Crash Energy Management) Cars -With files from Bryan Martyniuk
CEM Design Cab Cars:
Supplier - Bombardier
CEM Cab cars - 67 ordered
Series number - 300 - 366
Delivered - 300 - 338
In Transit from Bombardier - 339 (July 15th, 2016), 340 (July 16th, 2016)
Seen in service - 300, 302,303, 304, 305, 306, 307, 308, 309,310, 312, 313, 314, 315, 316, 317, 318, 319, 320, 321, 322, 323, 327, 328, 329, 330, 332, 333, 335
Here is brand new CEM cab car GO 339 in the Canadian Pacific "E" yard in downtown Thunder Bay on Friday, July 15th, 2016, waiting for furtherance to Toronto. It will be transferred to CN at Lambton Yard for final delivery to GO Transit at their Willowbrook Shops in Mimico.
Locomotives, cab cars, or coaches received for GO Transit in Mimico are first inspected and tested by VIA Maintenance Personnel at their Toronto Maintenance Centre which is on the south side of the Lakeshore West Corridor across from Willowbrook Shops. They are transferred across to Willowbrook Shops to be prepared for revenue service when that process is completed. This applies to new or refurbished rolling stock. Bryan Martyniuk photo with permission.
Here is CEM cab car GO 340 at the Bombardier plant in Thunder Bay on Saturday, July 16th, 2016, waiting to be transferred downtown to CP's "E" yard for furtherance to Toronto and final delivery by CN to Mimico. You can see Mount MacKay in the background. Bryan Martyniuk photo with permission.
Here is CEM cab car 318 leading a westbound train out of the siding on to the CN Kingston Sub at the Pickering GO Station on Monday, July 19th, 2016. In the background you can see the pedestrian bridge which connects the Pickering GO Station across the 401 to the Pickering Town Centre. On the left hand side in the background are the main Pickering GO station train platforms which are on the GO Lakeshore East line. This siding was the only trackage and train platform that existed at Pickering when the fledgling GO Train service began on May 23rd, 1967 as a two year test.
CEM Design Coaches -
CEM coaches - 60 ordered
Series number -
Coaches - 4000 series,
Accessibility coaches - 4500 series
Delivery Schedule - begins early summer 2016.
Bi-Level Coach Upgrade Programs
200 Series Cab Cars
These cars are currently being retired as cab cars, as more CEM 300 series cab cars arrive from Bombardier. They are going to be refurbished and will be used mainly as standard coaches. Some of them will also be used as stand by cab cars.
Here is cab car GO 230, in the consist of GO 308 West, operating as a standard coach. It is Sunday, July 17th, 2016 and we are at the Pickering GO Station on the GO Lakeshore East line. GO 230 has been retired as a cab car and will be refurbished for coach duties. It still sports its operating cab, horn, headlight, ditch lights, plow, and numberboards, on the west end of the car. GO 308 is one of the 67 new 300 series CEM cab cars replacing the 57 older model 200 series(200-257) Bi-Level cab cars.
2000 Series Coaches - Upgrade Project
The 2000 series cars are now being upgraded to series V standards as well. Coach 2035 was used as the prototype for the series V upgrade program and was finally released on February 23rd, 2016.
Cars currrently in the CADRAIL shops include:
2036,2037,2048,2051,2061,2078
Source: Canadian Railway Observations - May 2016 issue, with permission.
2400 Series Coaches - Upgrade Project
Cars in the 2400 series have now been upgraded to series V standards by CADRAIL in Lachine, PQ
2400 series cars recently released:
2415,2416,2418,2433,2430,2434,2435,2436,2442,2447,2450,2451,2452,2453,2455
With files from Mark Ostler - Media Relations and Issues Specialist - Metrolinx
With files from Kevin Argue - CRO contributor
PAUL WILSON: Twenty years on, TH&B treasure needs more trains
Hamilton Spectator By Paul Wilson - Tuesday, July 19th, 2016.
http://goo.gl/FRR8wd - thespec.com
Story shared by Kevin Argue - CRO Contributor
Four New Smarttrack Stations Announced For Toronto's East End
June 22, 2016 6:40 pm | by Stefan Novakovic
http://goo.gl/1fFe04 - urbantoronto.ca
Province Announces Four New GO Stations In West Toronto
June 21, 2016 1:55 pm | by Stefan Novakovic
http://goo.gl/oGjSor - urbantoronto.ca
Union Station Rail Corridor
Union Station Revitalization Continues At Bay And Front
June 22, 2016 12:22 pm | by Jack Landau
http://goo.gl/kHSiIl - urbantoronto.ca
Excerpt from Metrolinx Capital Projects Report - June 2016 - page five
"Work is continuing on the Union Station Trainshed project with a major shift in construction activity occurring at the end of June to begin rehabilitation work on a new set of tracks and platforms. This work will have major operational and customer-facing impacts as Metrolinx shifts service in the trainshed. In addition, Metrolinx has de-scoped the amount of work in the current construction contract and this work will be built into the future construction contract to electrify the Union Station Rail Corridor."
Capital Projects Group Quarterly Report - June 2016 - page five
http://goo.gl/veUDr0 - metrolinx.com
East Rail Maintenance Facility, Whitby, ON - http://goo.gl/ZhNqub
Here is Tier 2 MP40PH-3C GO 604 eastbound on the GO Lakeshore East Corridor past the west servicing canopy of the East Rail Maintenance Centre in Whitby on Saturday July 16th, 2016. You can see the train storage yard and main servicing building under construction in the background. The steel work for the Train Washing Facility is now under construction immediately adjacent to the right of way.This new Maintenance Facility will be completed in 2017 and will be equipped to service both diesel-electric and straight electric locomotives. There will be light and heavy shops to handle any train servicing, repair or rebuilding requirement.
Here is GO 308 West passing the east end of the Whitby East Rail Maintenance Centre on Saturday, July 16th, 2016. Two new buildings are under construction in the background, the Locomotive Load Testing Building on the left and what appears to be a road vehicle & equipment maintenance facility on the right.
There will be a second train servicing canopy constructed in the foreground, once the Hopkins Street bridge and approach ramp are torn down.
Here is the underside of the newly completed South Blair underpass in Whitby on Saturday, July 16th, 2016. It is part of the East Rail Maintenance Facility Project and you can see seven bridges. The first one is for an industrial spur that runs off the CN Oshawa South Service track. The next three carry the CN Oshawa South Service Track and the two mainlines of the CN Kingston Sub. The last four are for GO Transit, with the first two carrying the mainline tracks of the GO Lakeshore East line. The last two will carry the westerly yard lead tracks next year, to connect the new East Rail Maintenance Facility to the GO Lakeshore East Corridor.
Lewis Road Train Layover Facility -
http://goo.gl/3bldjk - gotransit.com
Here is the McNeilly Road road crossing in Stoney Creek, under construction on June 13th, 2016. The yard lead for the Lewis Layover yard is under construction and will be the third track on this crossing. You can see that a second signal bridge has now been installed, governing train movements westward toward Niagara on the CN Grimsby Sub, as well as GO train movements from West Harbour GO Station into the Lewis Ave layover yard. The other signal bridge just west of the crossing has two LED signals governing eastward train movements on the CN Grimsby Sub as well as GO train movements heading out of the layover yard, eastward to West Harbour GO Station.
The level crossing, track switch and the balance of the spur to connect the yard to the CN Grimsby sub will be installed in the near future. A maximum of four trains will be able to lay over at Lewis Avenue instead of deadheading back to Willowbrook in Mimico. The yard has enough land to be expanded to eight tracks if needed.
Niagara GO Expansion - with files from Kevin Argue
Leveraging & Accelerating Go Rail
July 11, 2016 | Filed under: Pelham,With Pelham Mayor Dave Augustyn | Posted by: J.T. Lewis
http://goo.gl/7ej7QU - eriemedia.ca
Local Work Continues To Ready For GO
By Maryanne Firth, St. Catharines Standard
Thursday, July 14, 2016
http://goo.gl/OkaFkQ -stcatherinesstandard.ca
Work Begins In 2017 On GO Train Expansion Into Niagara
Expansion includes construction of new east Hamilton station at Centennial Parkway in Stoney Creek
The Canadian Press Posted: Jun 28, 2016 2:11 PM ET
http://goo.gl/QZSYO5 - cbc.ca/news/canada/hamilton/news
Seasonal Niagara GO Train Service Returns
http://goo.gl/xctTM -gotransit.com
Kevin Argue & Mark Ostler
More GO Parking For Commuters In Brampton
223 Additional GO Parking Spots at Mount Pleasant Station
July 18, 2016 10:30 A.M. Ministry of Transportation
https://goo.gl/WTZTbF - news.ontario.ca/mto
Big Boost For Kitchener-Waterloo & Brampton GO Transit Service
June 14, 2016 5:06 pm | by David Brake
http://goo.gl/snLCH3 - urbantoronto.ca
Excellent summary of the June 14th announcement regarding changes to GO train service on the Kitchener line. Some changes will come into effect in September, others will be more long-term:
The Kitchener line will be electrified by 2024.
CN Freight traffic between Bramalea and Georgetown on the CN Halton Sub will be moved to a new freight corridor between Bramalea and Milton using 407 Corridor land.
Two Georgetown to Union Station trains will be extended to Kitchener in September, providing a total of four morning peak trips a day from Kitchener to Union Station. There will now be four afternoon peak trips returning from Union Station to Kitchener in the evening rush hour as well. These trains will also serve Guelph and Acton,
All day, two way express GO Bus service will run between Kitchener and Bramalea starting in September. They will be timed to connect at the Bramalea GO Station with GO trains running to and from Union Station. At Bramalea, in addition to the Kitchener trains, there is also mid-day two way GO Train service between Union Station and Mount Pleasant GO Station, which is west of Brampton GO Station.
The Province of Ontario will pay the $43 million cost of the new Multi-modal Transit Hub which will be part of the new ION LRT service. This hub will be located on the south side of the Kitchener line, adjacent to King and Victoria Streets. Commercial and Retail services will also be located in this hub.
Shirley Ave. Storage And Maintenance (Layover) Facility- Update
http://goo.gl/8PGgJT - metrolinx.com
Construction of the Shirley Ave. layover facility in Kitchener (Breslau) is in progress, and will be operational in June 2016. This yard will have the capacity to store four GO trains. There will also be a GO bus storage and maintenance facility on this site. In September, 2016 two trains that currently run between Union Station and Georgetown will be extended to serve Acton, Guelph and Kitchener. These trains will then layover at Shirley Avenue instead of Georgetown
Gormley GO Station - Expansion Project - http://goo.gl/gc1kpA
Kevin Argue and Mark Ostler- Metrolinx
Barrie Line
Weekend Summer Go Train Service To Return To Barrie Line
CTV Barrie Published Friday, June 10, 2016
http://goo.gl/vs3ZjE - http://barrie.ctvnews.ca
Capital Projects Group Quarterly Report - June 2016
http://goo.gl/veUDr0 Barrie Project - page four metrolinx.com
Phase One - Six kilometres of second track between York University and the Rutherford GO station.
Phase two -Full double track expansion of the Barrie corridor, between Parkdale Junction on the GO Kitchener line and Allandale GO station in Barrie. Phase 2 will start later in 2016 and will be completed in the first half of 2017.S ource - Mark Ostler and Urban Toronto.ca
Stouffville Line: Double Tracking Project
Capital Projects Group Quarterly Report - June 2016Stouffville Project - page five
http://goo.gl/veUDr0 - metrolinx.com
Here is the view of the construction for the second track of the Stouffville line, on Friday, July 8th, 2016, where phase 1 begins at Agincourt GO Station progressing northward to the Unionville Station. In the distance is Havendale Ave, and a block signal and crossing signal light which need to be moved over to make room for track two
Notice that much progress has been made in putting down the sub base for track two. The second track needs to be installed in several level crossings and the crossing gates relocated. There are a number of block signals that need to be moved as well. Agincourt GO Station, Milliken GO Station and Unionville GO Station are going to be upgraded and modified to make room for track two. A turnaround track will be added at Unionville GO Station as well.
Here is the Stouffville line, looking northward from Passmore Avenue toward the Milliken GO Station at Steeles Avenue on Friday, July 8th, 2016. Notice that the subgrade for track two has been put down here as well. Milliken GO Station is going to be upgraded and the level crossing at Steeles Ave. will be improved.
Here is the view of track two construction looking north from McNicoll Ave towards the Milliken GO Station at Steeles Avenue. You can clearly see in this photo, all of the things that have to be finished to complete construction of Phase One of this Double Tracking Project from Agincourt GO Station to Unionville GO Station
GO Lakeshore East Corridor -
Capital Projects Group Quarterly Report - June 2016 - page four
http://goo.gl/veUDr0 - metrolinx.com
Guildwood GO Station - Station Upgrade - http://goo.gl/Yo5zPw
Community Notice - April 11th, 2016 -
http://goo.gl/cDgDOJ - gotransit.com
Bowmanville Extension To Lakeshore East Corridor Service
GO Lakeshore East Line To Extend From Oshawa To Bowmanville
June 20, 2016 4:25 pm | by Jack Landau
http://goo.gl/IggYdq - urbantoronto.ca
Bowmanville Extension - Plans Of Tracks To Be Built -
from GO Transit Environmental Assessment Report - Jan 2011
http://www.gotransit.com/public/en/docs/ea/oshawabowmanville/AppendixH_PlansandProfiles.pdf
Dean Brown caugh Cab car 313 in St Catharines Ontario on July 30 2016.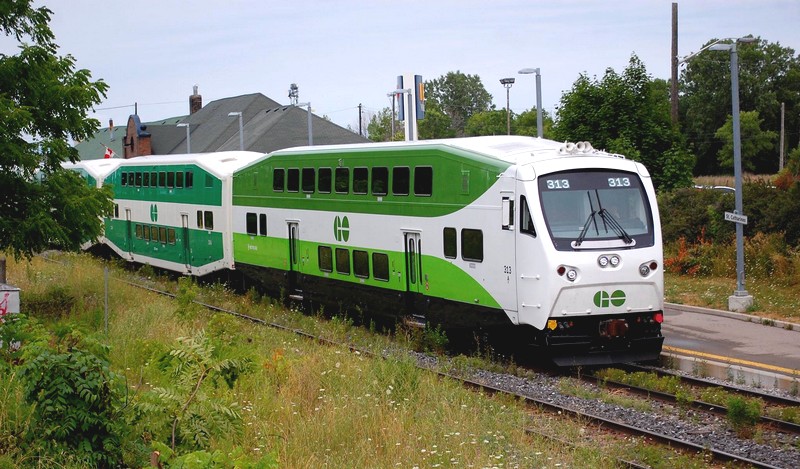 He also caught GO 788 with GO 601 and 12 Bi level Coaches and Cab Car 317 at St. Catharines on July 3, 2016.
UPX Airport Train Subsidized $52 Per Ride Last Year
By BEN SPURR Transportation Reporter Thu., June 30, 2016
https://goo.gl/aRqgZ8 - thestar.com
Could The TTC End Up Running The UP Express?
Queens Park Committee asked Metrolinx to investigate whether TTC could operate the train
By Shaun Jeffords, Political Bureau Chief - June 25th, 2016
http://goo.gl/kb9vVS - torontosun.com
Union Pearson Express - Latest News
https://goo.gl/e8P2nm - UPExpress.com
Capital Projects Group Quarterly Report - June 2016 - page two and three
http://goo.gl/veUDr0 - metrolinx.com
Crosstown Eglinton LRT - Toronto http://www.thecrosstown.ca
The west tunnels are now complete and the east tunnels will be completed by the end of this year.
Construction has begun on Keelesdale Station and the Leaside station
What's New As Of July 14th, 2016
http://goo.gl/OMTZj6 - thecrosstown.ca
Eglinton Crosstown Construction Updates As Of July 14th, 2016-
http://goo.gl/0Tg3R3 -thecrosstown.ca
Finch West LRT
Finch LRT Contract To Be Awarded Next Year
Metrolinx says preliminary work on the transit line will begin late this year.
By TESS KALINOWSKI Real Estate Reporter, Mon., Feb. 22, 2016
https://goo.gl/4WTKVC - thestar.com
What Is The Finch West LRT Project? - Video
Published on 27 Jun 2016
Metrolinx Project Director Sampson Ho talks about "What is the Finch West LRT Project?"
https://goo.gl/Jve18p - youtube.com
https://goo.gl/hUA1oM - twitter.com/finchwestlrt/status
Map of Finch West LRT
FinchWestLRT Project @ finchwestlrt on Twitter
https://goo.gl/loAAB1 - June 3rd, 2016
Project Outline - http://goo.gl/9BZyW0 - www.metrolinx.com
Hurontario - Main LRT - Mississauga
Brampton Moves Toward Accord With Metrolinx And Mississauga On LRT
Brampton Guardian By Peter Criscione , Thursday, July 21st, 2016
http://goo.gl/NT672n - bramptonguardian.com
LRT Will Completely Transform Mississauga
Mississauga's LRT will do for the city what the subway did for Toronto, creating a much denser, tightly knit place than its suburban past.
By SAN GREWALUrban Affairs Reporter Mon., July 18, 2016
https://goo.gl/4EnkNi - thestar.com
Construction Of New LRT Line Helps Secure New Office Project At Mississauga And Brampton Border
Fri., Jul 08, 2016 | By Joanne Lovering
http://goo.gl/qSSZOd - mississauga.com/news
Brampton Moves Forward On LRT To Mississauga
by Ashley Newport on July 4, 2016, in News
http://goo.gl/dKjknN - insdauga.com
Hurontario LRT Project - Project Overview
http://goo.gl/kYC0Cg - metrolinx.com
ION LRT- Region of Waterloo
-Preston, Galt Had An LRT Line 122 Years Ago
Hespeler joined the line a year later
Cambridge Times , July 20th, 2016, By Walter Gowing, Speaks Out
http://goo.gl/ep3aBq - cambridgetimes.ca
CTV Kitchener: Construction Timelapse |-VIDEO
16 Month Timelapse Video Of ION Construction On King Street In Kitchener.
This video was taken from the CTV Kitchener studios, to show the progress of construction along the stretch of King Street north of Grand River Hospital, just before it reaches Waterloo.
http://goo.gl/h9fxY5 - http://kitchener.ctvnews.ca
ION - Latest Construction Updates -
Monthly ION Update July 8th, 2016
http://goo.gl/3Fn9xa -rideion.ca
ION Interactive Route Map - http://goo.gl/2PI4km
http://goo.gl/zWH0xM - rapidtransit.regionofwaterloo.ca
Hamilton LRT -
Hamilton LRT Project, City of Hamilton
July 7, 2016
Metrolinx Maps and Fact Sheets regarding Hamilton LRT .
https://goo.gl/m2vUVq - hamilton.ca
Capital Projects Group Quarterly Report - June 2016 - page four
http://goo.gl/veUDr0 - metrolinx.com
City of Hamilton LRT website -
Procurement for the LRT will start in 2017, with construction starting in 2019.
Ottawa LRT - Confederation Line
http://goo.gl/BQeI9S - News and Events - June 29th, 2016
http://goo.gl/0KcLys - Construction Updates -July 13th, 2016
TTC - APRIL 2016 NEWS - with files from Kevin Argue
Chief Executive Officer's Report - July 2016 Update
http://goo.gl/tBMIfN - Board Meeting of July 11th, 2016
TTC Service in 1928 - Historical Article with map
July 16th, 2016 by Steve Munro
https://goo.gl/jGKg3J - stevemunro.ca
SUBWAYS: with files from Kevin Argue - CRO Contributor
Cash Shift Might Revive Sheppard Subway Extension
By BEN SPURR Transportation Reporter, Fri., July 15, 2016
https://goo.gl/wXTszj - thestar.com
Yonge Line - Finch - Richmond Hill Extension
Province Pledges $55 Million For Yonge Subway Extension Planning
June 2, 2016 11:05 am | by Stefan Novakovi
http://goo.gl/tHPPkd - urbantoronto.ca
Downtown Relief Subway line - New line planned
Relief Line: Preferred Alignment Now Includes Unilever Stop
June 1, 2016 3:42 pm | by Stefan Novakovic
http://goo.gl/fGcfof - urbantoronto.ca
Reliefline.ca - New Website
This is a joint effort between the City of Toronto and the TTC. Keep up to date with the developments on this project by joining the mailing list.
Yonge - University-Spadina-York Subway Extension - Line 1
Rails Complete For The TTC Subway Extension To Vaughan
June 6, 2016 3:33 pm | by David Brake
http://goo.gl/Q1FAwj -urbantoronto.ca
http://goo.gl/0b1xZN - TTC project updates
Bloor-Danforth Subway - Scarborough extension - Line 2
Scarborough Subway Cost Rises By $900-Million
Oliver Moore - Urban Transportation Reporter
Friday, Jun. 17, 2016 -
http://goo.gl/vG74wk - theglobeandmail.co
Line 2 Subway Extension - Kennedy Station to Scarborough Town Centre
The Project
http://goo.gl/rfOlzq - scarboroughsubwayextension.ca
Toronto Rocket (TR) Subway Cars 5381 - 6176
This article provides a full description of the new TR group of cars, currently under construction by Bombardier in Thunder Bay. These cars are all based at Wilson Yard in Downsview. Six-car trainsets operate exclusively on line 1 (Yonge-University-Spadina-York extension) because they can operate on the new ATC signal system on that line.
Six - four-car TR trainsets operate only on line 4 (Sheppard).
http://goo.gl/ipBgwV - wikipedia.com
Scheduled Subway Closures
August 2016
REVISED - Line 1 Yonge-University: St George to Union closure on August 6
Line 2 Bloor-Danforth: Pape to St George closure on August 13 and 14
Line 1 Yonge-University: Lawrence to Bloor-Yonge closure on August 27 and 28
Streetcars
The Importance Of Streetcars In The TTC's Integrated Transit Network
Andy Byford - CEO - TTC - July 11, 2016
http://goo.gl/EXdB0v - ttc.ca
TTC Streetcar Track Plans 2016 - 2020
http://goo.gl/EQTG5Y - stevemunro.ca
Flexity Outlook LFLRV- fleet. - 4400 - 4603
Flexity Outlook Production Units In Revenue Service:
4401 - Prototype unit -To be replaced with a new Flexity Tram.
4402 - Prototype unit- To be replaced with a new Flexity Tram.
4400 and 4403 to 4422 - In revenue service on the 509 Harbourfront line, 510 Spadina line, and 514 Cherry line.
4422 - The 21st Flexity Tram - Entered revenue service on the 510 Spadina line on Tuesday, July 12th, 2016.
4423 - The 22nd Flexity Tram - picked up from Bombardier on July 21st, 2016, and spotted in CP's "E" yard in Thunder Bay, for furtherance to Toronto.
H ere is the 21st Flexity tram, TTC 4422 on Friday, July 12th, 2016, her first day of revenue service. We are on the north end of the 510 Spadina line and TTC 4422 is southbound, approaching the southbound Harbord St. platform.
J
Here is Flexity tram TTC 4417 , a 510 Spadina line car, operating eastbound on Queens Quay on July 12th, 2016, entering the tunnel that turns northbound and goes under Bay Street into the underground streetcar loop at the east end of Union Station.
Here is Flexity Tram 4417 southbound on the 511 Bathurst Line on Friday, July 15th, 2016, approaching the intersection of Bathurst and Lakeshore/Fleet St. It was doing driver training and turned at the Fleet St. Loop and returned north on Bathurst St.. CLRV 4134 is eastbound on Fleet St. on the 509 Harbourfront line, and about to turn south on Bathurst St., heading for Union Station.
Streetcars Are Running On Kingston Road Again.
REMEMBERING BIRCHMOUNT LOOP
(Last Modified on June 25, 2015 9:34 PM) Text by James Bow
http://goo.gl/65c6sg - transit.toronto.on.ca
The Kingston Road 502 and 503 streetcar route has been operated with shuttle busses for sometime, but now streetcars are once again providing regular weekday service. Weekend service is by bus only. Two routes run from downtown Toronto to the Victoria Park loop on Kingston Road. The 502 Downtowner runs from the McCaul St loop, east along Queen St and up Kingston Road to the Victoria Park loop. The 503 Kingston Rd car runs from Wellington and York Streets, east along King Street, and Queen Streets to Kingston Road, where it goes up to the Victoria Park loop. Kingston Road cars used to go all the way to the Birchmount Loop at Kingston Road and Birchmount, but after July 1st, 1954 the route was cut back to the Victoria Park Loop (James Bow, http://goo.gl/65c6sg - transit.toronto.on.ca ).
Here is 502 Downtowner car CLRV TTC 4012 on Tuesday, July 12th, 2016 westbound on Kingston Road at Brookside Drive. It is headed for the McCaul St Loop via Queen St.
Here is 502 Downtowner car CLRV 4045, on Friday, July 15th, 2016, eastbound on Kingston Road at Winthorpe Road, headed for the Victoria Park loop.
Here is 503 Kingston Road car CLRV TTC 4183 on Tuesday, July 12th, 2016, westbound on Kingston Road at Brookside Drive. It is passing eastbound CLRV 4021, and is headed for York and Wellington Streets, via Queen and King Streets. It will turn south one block on Church Street, and proceed west on Wellington Street to York Street. It will begin its return journey by turning north one block on York Street to King Street and head eastbound along King and Queen Streets to return to Victoria Park Loop.
New - Route 514 - The Cherry Strrecar Line
Here are CLRV TTC 4140, Peter Witt TTC 2766, and Flexity TTC 4421 southbound on the Leslie St., connecting track, on Saturday, June 18th, 2016. They are heading back to Leslie Barns, where TTC 2766 will be stored inside because of its fabric roof. These cars had participated in the inauguration ceremonies of the 514 Cherry line at the new Distillery Loop along with PCC TTC 4500 and ALRV TTC 4225.
Here is the 20th Flexity tram 4421 northbound on brand new Cherry Street trackage, on Sunday, June 19th, 2016, on the first day of revenue service on the 514 Cherry line. It has just completed a stop at the northbound Front St. platform and will be westbound on King Street shortly, to the Dufferin Loop.
Here is Flexity tram 4421 on Sunday, June 19th, 2016, on the first day of revenue service on the 514 Cherry line, returning from Dufferin Loop, heading towards Distillery Loop on Cherry Street. It is ducking under the Richmond Street Bridge and approaching the Eastern Avenue intersection. The next stop is the southbound platform at Front Street.
Other Streetcar Infrastructure
Buses Replace Streetcars On St. Clair, While Bathurst-College Shuts Down
by NEWS STAFF Posted Jun 17, 2016
Complete description of project and TTC Video explaining why the work is needed and giving details.
http://goo.gl/ZR2QBL - 680news.com
Streetcar Track Construction Update: Spring 2016
Steve Munro - May 9th, 2016 - information and photos
https://goo.gl/TSHzCI - stevemunro.ca
College And Lansdowne Intersection Closure - Track Reconstruction
From July 25 to August 8, 2016
http://goo.gl/HE5Z8j - ttc.ca/ServiceAdvisories
West Coast Express
Here we look at the West Coast Express (WCE) equipment that happened to be at their VIA (VMC) Vancouver Maintenance Center on July 24th, 2012. (All photos are courtesy of Andy Cassidy with our thanks).
The first shot is the Control Cab Bilevel Coach #109. It's sitting inside the VIA Shop on track M1E where they service locomotives. Not sure what they were doing with it that day. The second shot is an attempt at seeing the Engineers Cab Area. I'm looking in through the side window which was open. You can see they don't have a lot of room in there. Looks like they were running some new wiring in for something. Shot 016 is also a repeat but shows the car from the South side in the service bay. Take note of the carbody.
Now we move outside the shop where they have another Control Cab Bilevel Coach #106 sitting there. We saw this earlier in the Trackmobile set. Both coaches were built by Bombardier, but the 106 was built in 1995, and the 109 inside the shop was built in 2010. See any difference in the carbody on each? It's the rivets. The older coaches have rivet construction. The 109 is a smoothie.
Now behind the WCE 106 in a fenced compound which on this day had WCE Locomotives F59PHI 904. My photo angles were pretty limited here, so I only got the two shots. Unfortunately I didn't get a chance to see inside this unit. WCE has five of these units (GMD F59PHI), that they purchased back in 1995. They also have one other locomotive from Motive Power Industries (MPI), #906 that they purchased in 2006. The GMD's are getting long in the tooth now. If it wasn't for the VIA VMC, the WCE would have had some serious challenges. Getting the WCE equipment from the CP line where it runs to the VIA shop and back on the CN requires the use of the old BN line that once serviced their Barge Slip on the Vancouver waterfront. It's hard to explain here, but they get the job done.
(Edited by William H Baird)
editor@canadianrailwayobservations.com
AMTRAK in Canada
Andy Cassidy submitted these shots taken July 24th, 2012 in Vancouver, BC.
The Pacific Central Station is not only home to the VIA Canadian #1 & #2, it's also the northern terminus for the Amtrak Cascades train using the Talgo trainsets. It runs twice a day back and forth between Vancouver and Seattle/Portland depending on the train taken. I love that train as it is super cheap and a nice ride. The only downside is there is little Parking available around Pacific Central. It's just ridiculous. So much potential lost on account of that IMHO. In any event, the train is looked after by VIA who provide VMC service ( coach cleaning during both daily layovers, and the HEP/air hose being plugged in/unplugged 4 times a day), also Via Rail Vancouver employees sell tickets for the Amtrak trains and we provide the baggage handling service. The train does have it's own parking spot on the South Track (I believe it's track C8), at the station and it's locked in acct under US Customs control. Once the train leaves the fenced in compound at the station, nobody gets off until they get over the border at Bellingham WA. On the way back nobody gets on or off between the border and the PC station. That is a shame, because I could easily catch the train at the BNSF Braid Terminal just down the street from my place. You could do it in the old days, but not now. It could all happen again if they just did the customs work at the border, but to speed things along they just do it at the PC station in Vancouver. Things aren't what they used to be in that regard.
As it turned out, I was outside the VIA VMC during my tour when Amtrak 510 North arrived; over an hour late. I guess they had trouble along the way as it was being lead in by BNSF 7835 (GE ES44DC). The normal lead unit AMTK 95 (GE P42DC) was in tow behind. So he slowly rolled by with the Mt. Adams Talgo Trainset behind and heading down a few yards to the station where I'm sure the passengers were chomping at the bit to get off. Amtrak delays are not uncommon, but they can pale by comparison to some of the VIA train delays into town. I've seen some long faces in the coaches on the few occasions I have caught VIA #1 rolling well past its normal arrival time at odd hours of the day. That bad old CN sure likes to mess with passenger train schedules it seems.
Dean Brown sent us this photo of VIA 98 (Maple Leaf) with AMTK 82 P42DC at St. Catharines, ON on July 3, 2016.
AMTRAK in the USA
From Lynn Powell: Since the timetable change, up until today July 2nd, both sets of the "Comets" were being used on the San Joaquins (I didn't see any of the Comet trains today, and the usual Comet trains were bi-levels). The day before, the late afternoon westbound Comet had the usual consist, but with a P42 tacked on behind the "cabbage" car. I wonder if the P42 was leading the train eastbound that morning? The two photos by Lynn Powell show AMTRAK Train #712 passing East Riverbank on July 2nd and 3rd.
Farwell to the AEM7 Electrics Fleet (By CRO AMTRAK Special Consultant Noel Braymer)
Amtrak operated an AEM-7 Farewell train last month and the Return Trip was video'd by Monica Matos taken on 06/18/16 at Seabrook, when the Amtrak AEM-7 Farewell train slowly rolled through the station. Led by EMD AEM-7 942 & 946, Monica was excited to say the least, and even recognized a couple of faces glued to the windows! The video shows the train heading back to Washington DC with Beech Grove Business car on the rear. Nice lights on it too! http://tinyurl.com/jyb6fgf
Amtrak AEM-7 Excursion Trip (led by AMTRAK AEM7 942 and 946) are shown blasting through Chester, PA. like a lightning bolt!
Amtrak AEM-7 Farewell Excursion at Halethorpe: On June 18, 2016, Amtrak ran a special excursion train to celebrate the retirement of the AEM-7 locomotive fleet. Using two of the last three operational locos (the third being #917) the train went from Washington D.C. Union Station to Philadelphia. On the return trip, the tour would stop at Wilmington, DE. http://tinyurl.com/jyseelz
Photo of Amtrak AEM7 on Amtrak Regional train #99 heading to Newport News, taken by Jeremiah Cox on March 5th, 2005.
Please submit your AMTRAK IN CANADA photos directly to William H. Baird
Copyright CRO August 2016