THE GMDD-built SW1200RS Diesel Switcher
Built in Canada between 1955-1964, the SW1200RS was a very successful Road Switcher model for the GMDD London plant with Canadian National Railways and rival Canadian Pacific Railway both placing large orders.
In the USA the EMD SW1200 was a diesel switcher locomotive built by General Motors Electro-Motive Division between January 1954 and May 1966, and it too was big success with most US railroads buying this model!
Power was provided by an EMD 567C 12-cylinder engine which generated 1,200 hp (895 kW). Late SW1200s built in 1966 were built with the 567E 12-cylinder engine. Additional SW1200 production was completed by General Motors Diesel in Ontario Canada between September 1955 and June 1964.
The switcher was not only popular with railroads, several large Canada companies purchased the SW1200RS such as Canadian Forest Products. Built for road service in Canada, this model was derived from the SW1200 Yard Switcher, but had 65 mph motor gearing, and multiple-unit capability for main line use. This road-engine featured a newly designed four-wheel "Flexicoil" truck, and large and very stylish enclosures for headlights, classification lights, and lighted number boards. Some switcher features remained - no electric alternator, mechanically-driven traction motor blowers and cooling fan, also hood top-mounted radiators with front-of-unit shuttered air inlet. While they were primarily intended for road service, over time, most of them became yard engines - their road duties taken over by larger GP9's which were generally older, but rebuilt into GP9RM's and GP9u's. Today, road switcher jobs are more commonly assigned to the more powerful EMD/GMD GP38-2 model. The last of the CP SW1200RS units were retired in 2012, and some survive on shortlines.
The attached pictures attempt to capture them in their original built-for role. The CFP units are still doing that role, although their highest speeds never ever came close to 65 mph. On May 19th, 1958, Canadian Forest Products (CFP) SW1200RS 301 takes a well deserved rest at Woss Camp in British Columbia. The Canadian Forest Products SW1200RS units have dynamic braking plus trays on the truck frames to provide handy access for spare parts. We wonder if the db fan was driven by an alternator or had a belt-drive device. One thing for sure - you certainly know when you are getting near one - that eerie scream, bouncing off the heavily treed sides of a river canyon will only be heard in the northern part of Vancouver Island.
Re the CFP unit and the application of DB. That fan is run off power generated by the TM's when in DB. The DB grids taking the brunt of the load, and the fan just tapping off the grids at the appropriate spot to deliver enough power to spin the fan at an appropriate speed in the full range of DB. It's all just a matter of adding the appropriate switch gear and excitation controls in the electrical cabinet. (Not a simple mod though). (Andy Cassidy with thanks)
With a mixed consist on September 16th, 1964, CP SW1200RS 8100 and sibling are preparing to depart Winnipeg, MB destined for a secondary route to the south. These units had the light enclosures only on the leading end. The trailing end had the type of headlight/number lights fixture usually applied to yard engines. Also, the exhaust stacks appear to be higher than those applied to similar CN units. Earlier this year, CP retired and sold their last operating survivors of this series, following over a half century of reliable service.
On August 5th 1973 Ted Ellis shot CP SW1200RS 8171 in a sad state after running over a Derail at Sault Saint Marie, Ontario. The second photos shows the GMD Switcher being carefully placed back on the rails by the CP Auxiliary Crane crews.
Another view of CP SW1200RS 8171 on the ground after running over a derail as she was leaving the Algoma Central transfer yard in Sault Ste Marie, Ontario. Note she just missed hitting a power pole before landing and sliding into the ditch. ACR GP9 171 is ready to help pull the CPR engine out with a steam powered hoist is behind the CPR unit to lift it up and set her back on the rails.
Eric Aucoin photographed CN SW1200RS 1363 at Taschereau Yard in Montreal April 23rd, 2007.
On July 19th, CP 9521 and CP 8630 were photographed seen outside the Cadrail shop in fresh CP paint. The second GE AC4400CW locomotive (CP 8630), had not yet been completely lettered and had no numbering at the time this photo was taken. (The following images are by LL):
GMTX MP15AC 331 was shot outside the shop on July 19th being prepped to depart in late-July. It had been at Cadrail for several months.
CEFX SD60 6009 was shot at Cadrail on July 9th, along with some CP units outside the shop: CP 9545, CP 8723, CP 4404, and CEFX SD60 6009.
The old SOO lettering is still showing through.
Here we see it sitting in Woodstock Ontario May 31st after having BOA traction Control and other upgrades done at the Ontario Southland Shops Salford Ontario.

At CP St-Luc Yard the same day, CP GP38-2 4428 was back at the Diesel Shop, and LTEX 270 was still in the yard as well.
An overall shot from the reverse angle, showing the St-Luc Shop prep tracks area.
New Arrivals in July:
CP4407 (At CADRAIL for overhaul and repaint, and arrived on July 21st).
Inside The Shop (Updated July 24th, 2016):
AMT 1329 - F59PHI
CADRAIL 2001 - Their own ex-CP RS23 for Yard Collision Repair
CEFX 2015 - GP20D for Unknown
CP 4404 - GP38-2 for RCL and Repaint
CP 8630 - AC4400CW for Repaint
CP 8640 - AC4400CW Wreck repairs
CP 9521 - AC4400CW for Repaint
CP 9574 - AC4400CW Repairs
CP-9580 - AC4400CW for Unknown
CSXT 9993 - F40PHR for complete rebuild
GMTX 312 - (ex-CP 1428) in blue paint and soon to be released.
GMTX 331 - (ex-SOO 1553) in blue paint and soon to be released
LTEX 3812 -GP38-3M (ex-Ann Arbor GP38) in overhaul process
LTEX 3815 - GP38-3M (ex-LTEX 2588) previously sent to RSI in Minneapolis, but returned to CAD.RPRX RP20BD 5401 - In long-term storage outside.
Released in July
CP-8753
CP-8888
CP-9521
CP-9545
LTEX F40PH 270
Released in June
CP-8712
CP-8719
CP-8734
CP-9535
CP-9536
CP-9541
CP-9580
CADRAIL continues to do truck swap outs of designated locomotives from the Canadian Pacific Railway GE-fleet. Our visits to see the released units at St-Luc Diesel Shop show that they have had Hi-Ad trucks switched to the Steerable trucks, or vice-versa.
CADRAIL (and NRE-Silvis, IL) continue to install Cattron remote control equipment into GP38AC and GP38-2 locomotives for the Canadian Pacific Railway's RCL Program. Those seen completed at St-Luc Diesel wear new paint and have all new antennas and strobe lights, and visible Remote Control modifications.
CADRAIL 2001, which is former CP 8024 (an MLW-built RS-23) was damaged in January 2015.
GO/AMT Commuter Cars
Newest Arrivals
AMT-2037 in June (The full series is AMT 2020 to 2037).
GO TRANSIT / METROLINX commuter cars at CAD for overhaul and conversion to Bi-Level V standards. The list shows the commuter cars on the property undergoing the overhaul process, and those already released:
GO In The Shop
GO 2037, 2048, 2078 and GO 2504.
GO Released
GO 2415, 2416, 2418, 2433, 2430, 2434, 2435, 2436, 2442, 2447, 2450, 2451, 2452, 2453, 2455, and 2061 all in 2016. Latest released is GO 2061 in June)
On February 23rd GO 2035 was released back to GO. It was the first Bi-Level 1 upgrade of this series to be completed at CAD three years ago, and used as their prototype example. It is now back in Toronto commuter service after three years inside CADRAIL in Montreal!
AMT at the Shop
AMT 2037 arrived in June
AMT 2032 arrived in March.
AMT 2018, 2020 and 2036 (in Progress)
CADRAIL has been contracted by the Agence Metropolitaine de Transport for modernization and door refurbishment on a number of AMT 2000-series Montreal commuter coaches.
AMT Released
AMT 2024 - Coach in June
AMT 2032 - Coach
AMT1323 - F59PHi
VIA RAIL LRC cars at CADRAIL for Refurbishment
VIA Newst Arrivals
VIA-3329 (June)
VIA-3333 (June)
(LRC) Currently Inside
VIA 3323, 3329, 3333, 3458, 3459, 3461, 3466, and 3473.
(LRC) Completed/Released
VIA-3337 released in July
VIA 3341 released in June
VIA 3343 released in June
VIA 3471 released in June
VIA 3307 released in May
VIA 3475 released in May
VIA 3466 released in April
VIA 3309 released in March
Sad news, in July the Scrapping of the final six un-rebuilt cars has begun.
IRSI 6202 and FARMRAIL 6130 have new reporting marks: AEAX.
The following units were noted Outside the LDS shop in July.
ESSO SW900 7920
LDSX Slug 269
LDSX 7316 (ex-CN SW1200RM part source located beside the shop)
IC car with a pair of Prime Movers.
CN C44-9W 2565
CN Slug 242
CN GP9RM 7264
CN Slug 222
EMDX 1 (The ex-GMD London plant switcher)
Ex Lake Erie Steel SW1000 456 missing her traction motors (on empty trucks)
On July 2nd, Patrick McKie shot this Ontario Northland south bound train in to North Bay arriving with ONT SD75i 2104 as a trailing unit. This was ONT 2104's first trip back to North Bay since being sidelined for a while with engine issues.
Ontario Northland Evening Shop Crews will soon be working on the wheel sets of ONT SD75i 2105. Photo was taken the afternoon of June 26th.
It is not often we get to catch the Ottawa Valley train (OVR F61) returning from Temiskaming QC; but on July 11th this was one of those rare days, as LLPX 2221 and RLK 4096 sound their horn for the final level crossing, before reaching the yard.
With a big wave from the Engineer of OVR F61, RLK 3029 and RLK 3048 pull their tonnage east to Mattawa, Ontario before heading North under blue skies and sunshine up to Temiskaming, Quebec.
The Ontario Northland refurbishment shop in North Bay is doing some work on the two of the passenger coaches for the Polar Bear Express. Here on July 24th, Paul Lantz caught the Polar Bear Express mixed train headng southbound to Cochrane, from Moosonee, ON.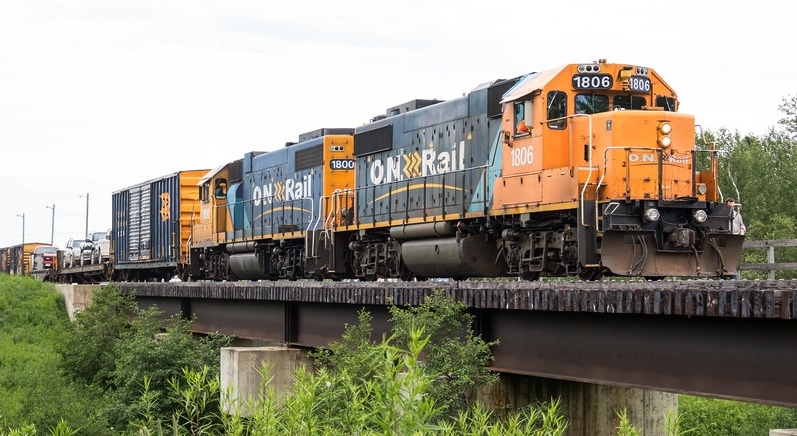 While in Los Angeles on May 22nd, 2016, Jody Moore came across two trios of Union Pacific 3GS21Bs, which had been heavily vandalized by locals with spray cans with too much unsupervised time. Interestingly, while watching one set of them work at one point against the backdrop of graffiti-decorated walls and the like, he realized that it's about the best urban camouflage around. Her are UPY 2704, 2708 and 2707.
Union Pacific 3GS21Bs UPY 2710, 2709 and 2714 were clicked nearby on the same day, and in the same sorry state!
Half of Pacific Harbor Lines' NRE genset fleet, 3GS21Bs PHL 33 and 31, and 3GS21C PHL 81, as well as their sole Progress Rail PR30C, PHL 40 sit outside the railroad's engine house in Long Beach, CA on May 23rd, 2016. (Jody Moore photo).
These new Norfolk Southern slugs are built on a new frame with rebuilt EMD 6-axle trucks and they will be mated to the new NS SD33ECO mother units that are being built from retired SD40 units and some ex CR SD40-2 units (that started out as SD40 units and were upgraded to DASH-2 specs by CR). There are to be 8 of these sets built. (Kenneth Hale)
While Jody Moore was riding with N&W 611 out of Roanoke, VA about two months back, he was greeted by the following surprise: NS's pair of Railpower RP14BD cabless gensets;, NS 2120 and 2121 which are working as shop switchers, at the NS diesel shop in Roanoke. Shown here is NS 2120, resting between shifts. As a bonus, behind the 2120, you can see a twinge of green and white stripes, which are on the hood of battery-powered BP4 locomotive NS 999, which is also assigned to Roanoke.
Click HERE to Submit Photos to Loco Shops
Copyright CRO August 2016