AMT ' Agence Metropolitaine de Transport
(Edited by Jean'Francois Turcotte and William H Baird)
amtnews@canadianrailwayobservations.com
Reseau Electrique Metropolitain
From a good source, the new REM light rail system will use only 1500 volts DC instead of the AMT's current 25000 Volts DC system. Only 2 companies have been selected to give a price-fixing the LET, a joint venture including SNC-Lavalin and Pomerleau, and a joint venture with Kiewit plus one more unknown company. When The REM is operational, the expensive Dual Mode Bombardier Alstom built ALP45-DP locos will truly be a waste of money as there will be no need for the electric centenary and the diesel mode will be needed. As they are not paid for, perhaps they could sell them to New Jersey Transit (who own the same type of unit), or they may be able cancel the order and pay only a portion of the cost. At the AMT Pointe St-Charles Shop construction site, after preliminary surveys were completed, it now appears half of the new building at the project now will have to be demolished. The new yard that was installed might now have to go as well.
On January 20, 2017, the BAPE (Quebec's Environmental Review Board) issued its final report on the controversial REM project, following weeks of public audiences and input. The BAPE's uncommonly harsh report severely criticized many aspects the project and failed to give its blessing, which is somewhat unheard of.
Among some of the report's key aspects:
No less than 90% of the projected REM ridership (150000 daily riders) would come from existing bus and commuter rail riders;
The REM's Ste-Anne-de-Bellevue line ridership would drain AMT's Vaudreuil-Hudson line from most of its ridership, which threatens the current level of service, if not the line's existence itself;
The environmental benefits in converting an existing electrified commuter rail line to an electrified light rail line are tenuous at best. The projected costs and service disruptions would however be horrendous;
The proposed REM service on the Deux-Montagnes line would severely reduce peak hours capacity and riders comfort, despite the increased service frequency (6-12 minutes), because a four-cars light rail train can handle only 600 riders, compared to more than 1500 riders for a ten-cars set of MR-90's, and more than 2500 for a set of Multilevels. Moreover, the REM vehicles will be configured for only 20% seated passengers and 80% standees, compared to 50% standees on board AMT trains. Deux-Montagne line riders, already enduring overcrowded and increasingly uncomfortable trains, will certainly not appreciate having to stand for 35-45 minutes per trip.
The REM will force AMT's Mascouche line out of downtown and truncate it on the outskirts of an industrial park near A40, forcing an inefficient transfer of riders to the REM to get to Central Station. This will reduce the line's ridership and performance, and may in turn overcrowd the Orange Metro line further by forcing riders to transfer at intermodal station Sauve instead.
Forcing conventional heavy rail out of the Mount Royal tunnel was not within the mandate given the the government to CDPQ Infra to build a light rail line to the airport and the South Shore. Other routings are available, notably as originally planned along A20 through the former Turcot Yard and Lachine.
VIA Rail's proposed High Frequency Train can no longer reach downtown Montreal if CDPQ Infra secures the tunnel for its own exclusive use. VIA Rail unexplainably blessed the REM project during the audiences and seemed to accept a mandatory transfer of riders between its own trains and the REM at A40, despite knowing it would probably torpedo its own project. The proposed transfer location is in an industrial no man's land that is clearly not a suitable location to build an intermodal transfer hub.
CDPQ Infra did not provide its projected financial framework for the REM, meaning that it is impossible for riders and public agencies to know the much the REM will cost them once it is built and operating. CDPQ's mandate is turning an operating profit, which could clash with the mandate of public agencies, which is to increase transit usage.
CPDQ Infra is fast-tracking the REM in a troubled period during which the AMT is being disbanded and replaced by new agencies (the Agence Regionale the Transports Metropolitain - ARTM and the Reseau de Transport Metropolitain - RTM). As currently structured, the REM will be completed devoid of any oversight by one of these public agencies, despite its deleterious impact on existing services.
Other, less expensive and more effective options are available to increase transit usage and capacity in the Montreal area.
The complete report, in French, can be read here.
http://www.bape.gouv.qc.ca/sections/rapports/publications/bape331.pdf
Quebec's Minister of Transportation vowed to pursue the project and dismissed the report's content and attacked the BAPE's credibility by claiming it had exceeded its mandate. This is somewhat troubling, because the REM has so far avoid any kind of review or criticism by any transportation experts or elected officials from any public agency, who are forced to accept whatever lump CDPQ Infra is forcing into their throat.
AMT News Editor Jean-Francois Turcotet shot AMT train #13 in Pincourt - Terrace Vaudreuil, with cab car AMT 3023 and GMD-built F59PHI AMT 1321 pushing on the tail end on December 30, 2016.
STM News
STM pulled all twelve new MPM-10 "Azur" train sets from service on January 14, following an incident which completely halted service on part of the Orange line. Excessive lateral forces may have caused a failure of the side-running contact shoes, one of which came loose and damaged the tracks and signalling equipment. Investigations are under way. For now, service is offered on the Orange line with MR-73's.
Former CP Montreal Commuter units when vintage power was the norm at Dorion, Quebec, AMT GP9u 1310 (With an HEP Generator car behind) and AMT FP7Au 1306 stand side by side faceing east toward downtown back on April 12, 1997. (Deane Motis photo)
Metrolinx/ GO Transit/ LRT/ TTC News Editor ' JOHN S. JEFFERY
Please submit your Metrolinx/GO Transit/LRT/TTC News and photos to wce1942@gmail.com
This is a Forum in urbantoronto.ca where interested parties share and discuss information on the latest GO Transit Projects. The latest page is number 233. If you register you can participate in the forum.
https://goo.gl/69ic6o - urbantoronto.ca
Here is a view on January 24th, 2017, looking westward along outside platform 26 at Union Station. You can also see the new atrium that has been constructed over the train shed. When the latest phase of platform upgrades are complete, all platforms will look like this, with escalator and elevator access, safety lines, renewed track, and electronic signs. All tracks at Union Station will also be equipped with overhead catenary to allow the operation of electric trains. Adam Reiss photo with permission
Locomotive Fleet
NEW TIER 4 AC TRACTION LOCOMOTIVES (GO 667 - 682)
Vanessa Barrasa - Senior Advisor, Communications and Public Affairs at Metrolinx has confirmed that GO 667 the prototype MP40PHT-T4AC will be arriving from Motive Power Industries in the last half of this year. The unit will first undergo design qualification testing and vehicle dynamics testing. GO 668 to 682 will arrive in the latter part of 2017 and on into 2018. These units are 5400HP twin- engine Tier 4 locomotives with AC traction. They are similar in every other respect to GO 647, which is the prototype MP54PH (DC Traction)
The new 5400HP twin engine Tier 4 locomotive from Motive Power Industries has two versions. GO 647 is the prototype for the MP54PH DC traction version and has been testing here since November 2015. GO 667, which will be arriving this fall, is the prototype unit for the MP40PHT-T4AC version of this new model. Here is a view of Tier 4 DC Traction MP54PH GO 647 (2015) at Oshawa on Friday, November 4th, 2016 to show what the AC traction version will look like. GO 667-682, the sixteen new units on order, will have the same carbody as GO 647, and the only difference between them and the MP54 will be the addition of AC traction.. Look for prototype AC traction unit GO 667 to arrive this fall after design specification and dynamic testing are completed. John Jeffery photo.
PASSENGER CAR FLEET - Updated January 22nd, 2017
Source: Canadian Public transit Discussion Board https://goo.gl/LTiR1c - cptdb.ca
Transit Toronto https://goo.gl/OCMT4k - transittoronto.ca
Series IX - CEM (Crash Energy Management) Cars - New Design introduced at APTA EXPO in 2014
With files from Bryan Martyniuk
CEM DESIGN SERIES IX CAB CARS: First in Service, October 14th, 2015
Supplier - Bombardier
Series IX - CEM Cab cars - 67 ordered
Series number - 300 - 366
Delivered - 300 - 361
In Transit from Bombardier - 361 ( December 22nd, 2016)
CEM DESIGN - SERIES IX BI-LEVEL COACHES - New information
March 2012 - 60 coaches in initial order
August 02, 2016 - 125 additional coaches ordered -
Series IX - CEM Standard Coaches - 4000 Series,
Delivered - GO 4000 -
In Transit from Bombardier - GO 4001 (January 13th, 2016)
Series IX - CEM Accessibility Coaches - 4500 Series
Delivered - None as of December 25th, 2016
Delivery Schedule - begins in 2017, both orders to be completed by 2020.
Here is brand new CEM standard coach GO 4001 sitting in CP's "E" yard in downtown Thunder Bay on Friday, January 13th, 2017. It has been staged for pickup by train 420 for furtherance to Lambton Yard in Toronto. It will then be transferred to CN who will perform the final delivery, via Oakville Yard, to GO Willowbrook Shops in Mimico, on the GO Lakeshore West line. Bryan Martyniuk photo with permission.
BI-LEVEL COACH UPGRADE PROGRAMS
200 SERIES CAB CARS -
These cars are currently being retired as cab cars, and put back into service as coaches, as more Series IX CEM 300 series CEM type cab cars arrive from Bombardier. The 200 series cars are slated to be refurbished and will have their train operations equipment removed.
2000 SERIES COACHES - UPGRADE PROJECT
The 2000 series cars are now being upgraded to series V standards as well. Coach 2035 was used as the prototype for the series V upgrade program and was finally released on February 23rd, 2016.
UNION STATION RAIL CORRIDOR
Here is a closer view of the new atrium that was constructed over the train shed at Union Station. This view is from outside platform 26 on Tuesday, January 24th, 2016. The upgrade work being done is in preparation for electrification of the Union Station Rail Corridor. Adam Reiss photo with permission.
METROLINX EXPANDING RAIL YARD FOR REGIONAL EXPRESS RAIL
November 24, 2016 | by Robert Mackenzie
This article provides the details of how Metrolinx is going to expand the Don Rail Yard at the east end of the Union Station Rail Corridor
https://goo.gl/bmEAj4 - urbantoronto.ca
EAST HARBOUR: A TRANSIT HUB IN THE MAKING FOR TORONTO
January 19, 2017 5:28 pm | by Andrew Johnson
https://goo.gl/lUMzMK -urbantoronto.ca
This is an excellent article, including drawings, that outline all of the features of the new East Harbour GO Station which will be built at the east end of the Union Station Rail Corridor, over the Don Valley Parkway. It will include an extension to Broadview Avenue and the construction of a new streetcar line. The station will have four tracks, with a canopy covering the entire station.
GO KITCHENER LINE - (Weston Sub) - Bathurst Street to Bramalea
(Guelph Subdivision) - Georgetown to Kitchener
KITCHENER LINE
CONSTRUCTION OF TRACK TO INSTALLATION ON WESTON
Metrolinx is accepting Tenders for construction for Weston Subdivision Mile 7.2 to Mile 9.3 and Mile 11.5 to Mile 13.5 Track and Grading
7.3 is the interlocking at Nickle, and 9.3 is Weston Road. There is already a 4th track laid (but dormant) from Weston Road to Humberview, the next interlocking, just southeast of the 401. The new trackage will close the gap to create a 4th track between the two interlockings, This would enable more frequent 2-way operation on the track normally used by GO as a peak-direction track and as a 2-way off peak track. The tunnel under the 401 is being upgraded as well to allow the addition of a fourth track.
https://goo.gl/TZoQTl -urbantoronto.ca
It has been learned that Metrolinx and engineering staff from the Goderich and Exeter recently conducted a survey of the CN Fergus Sub from where it joins the GO Kitchener line at Edinburgh Road, down to the end of track in Cambridge.
Metrolinx has advised that the results of this survey are not yet available.
GO BARRIE LINE - (Newmarket Subdivision)
NEW WEEKEND SERVICE ON THE BARRIE LINE
Here is GO 306 North arriving at the Aurora GO Station on Sunday, January 22nd, 2017 at 2:47pm from Union Station in Toronto. GO 306 is one of the weekend Barrie line trains that operate along the line in both directions, every 75 minutes, between Aurora GO Station and Union Station.
There are also three trains that operate from Allandale Waterfront Station to Union Station in the morning at 9:03am, 9:47am, and 11:02am. These trains return from Union Station to Allandale Waterfront Station at 4:28pm, 9:50pm, and 10:50pm. John Jeffery photo.
WEEKEND GO TRAIN SERVICE EXPANDING ON THE BARRIE LINE
December 6, 2016 1:18 pm | by Robert Mackenzie
https://goo.gl/BhFiE4 - urbantoronto.ca
Here is a view of the Aurora GO Station and GO 306 North, looking south from Wellington Street on Sunday, January 22nd, 2017. This train will return south shortly to Union Station. John Jeffery photo.
Here is Tier 2 MP40PH-3C GO 613, on Sunday, January 22nd, 2017, at the south end of the Aurora GO Station, waiting to lead this train southward on the Barrie line to Union Station. New CEM cab car GO 306 is trailing the ten car consist. This is one of the new weekend trains that shuttle every 75 minutes between the Aurora GO Station and Union Station. John Jeffery photo.
GO LAKESHORE EAST CORRIDOR - (Kingston Subdivision)
EAST RAIL MAINTENANCE FACILITY, Whitby, Ontario
EAST RAIL MAINTENANCE FACILITY UPDATE
Posted on Wednesday January 11, 2017
https://goo.gl/gZulFD - www.whitby.ca - Town of Whitby
This update by the Town of Whitby, includes several current pictures outlining the progress to date. A complete description of the project is also included.
Here is a view of the main building of the East Rail Maintenance Facility on Sunday, January 22nd, 2017, at Whitby, Ontario. The work to relocate Victoria Street closer to the building can be seen in the foreground. This work is to improve traffic flow through the area, and allow the construction of a new main entrance to the facility at the location of the recently closed Hopkins Street South. John Jeffery photo
Here is a view on Sunday, January 22nd, 2016, of the work that is currently being carried out to tear down the Hopkins Street South bridge, which used to provide access to the Gerdau Steel plant. A new street has been constructed eastward from South Blair Street to replace the bridge. The street lights and power lines have now been removed from the bridge which will be demolished shortly. The ramp on the north side of the bridge is being removed to allow construction of the east end of the East Rail Maintenance Facility layover yard to continue. John Jeffery photo.
GO - LAKESHORE WEST CORRIDOR - (Oakville Subdivision)
HAMILTON AREA -
With files from Kevin Argue
DESJARDINS BRIDGE: ONE PIECE OF HAMILTON GO RAIL EXPANSION
January 10, 2017 4:50 pm | by Andrew Johnson
https://goo.gl/x7qjFj - urbantoronto.ca
This article provides a photo of the Desjardin Bridge taken on January 5th, 2017. It also provides some history of this location along with an outline of current progress and what will be completed in the spring. This bridge will connect Hamilton Junction and Bayview Junction with CN Stuart at West Harbour GO Station using a third main line track which is being constructed by Metrolinx. It will allow additional GO Trains to be operated into and out of West Harbour GO Station. An eastward extension of this third main line from West Harbour GO Station to Stoney Creek is part of this project, which will allow GO Summer Niagara trains, and possibly the Amtrak/Via Maple Leaf to stop here as well. This will also allow West Harbour GO trains to access the Lewis Avenue Layover Yard in Stoney Creek.
Here is a view of CN Stuart, on Saturday, December 24th, 2016, looking northward from the Bay Street bridge. This is the temporary west end of the third main line which is being constructed by Metrolinx, from Hamilton Junction into West Harbour GO Station. Eventually this third main line will go eastward along the CN Grimsby Sub from West Harbour GO Station to Centennial GO Station in Stoney Creek.
The Desjardin bridge, which connects this new GO third main line into Hamilton Junction and Bayview Junction, at the east end of this new track, will be completed by summer 2017. The track configuration between Hamilton Junction and Bayview Junctions will be changed. The third main line will go all the way to Bayview Junction and connect into track number three of the CN Oakville Sub. Notice RLK 4001 with RLK 4003 switching cars in the Hamilton yard. Kevin Argue photo with permission.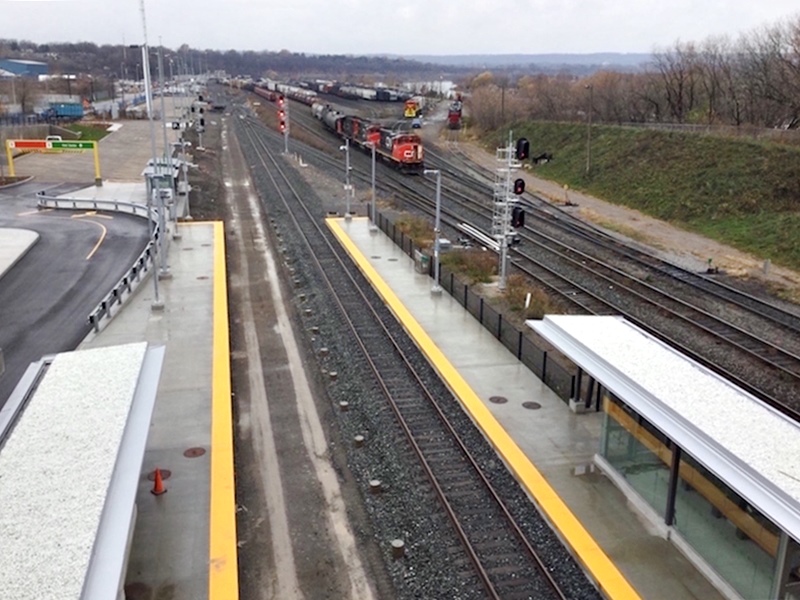 GO - RICHMOND HILL LINE
GORMLEY GO STATION OPENS IN RICHMOND HILL
Monday, December 5, 2016 by Codi Wilson, CP24.com
http://www.cp24.com/news/gormley-go-station-opens-in-richmond-hill-1.3189497
GO - STOUFFVILLE CORRIDOR (Uxbridge Subdivision)
STOUFFVILLE LINE STATION UPGRADES
Requests for proposals have been issued for the following station upgrades in phase one of this project. These improvements are required to accommodate the installation of a second track between Agincourt Station and mile 52.40 of the Uxbridge Sub, where it connects to the existing siding from Kennedy Road to Unionville GO Station.
MILLIKEN STATION: new and relocated platforms with canopy enclosure, tunnels, elevators, Steeles Avenue pedestrian connection, Steeles Avenue crossing improvements, and customer amenities
AGINCOURT STATION: new second track, new and relocated platforms with canopy enclosure, tunnels, elevators, customer waiting areas, building relocation, and customer amenities
UNIONVILLE STATION: new second track and turning track, new and relocated platforms with canopy enclosure, tunnels, elevators, parking expansion, and customer amenities
https://goo.gl/dLpXw1 -newsontario.ca
MILLIKEN GO STATION : - PROPOSED GRADE SEPARATION AND STATION UPGRADE
This is the latest proposal from Metrolinx for the Steeles Avenue underpass and Milliken GO Station upgrade. This comes from a Metrolinx regional open house meeting in that area in November 2016.
https://goo.gl/sp5ise -urbantoronto.ca
Here is a view of the Stouffville line on Sunday, January 22nd, 2017,, looking southward from the Kennedy Road crossing. You can see new signal cables at the east side of the right of way, that are being drawn into a conduit. You can also see the retaining wall that has been constructed to protect the right of way for the second track that will be constructed between Agincourt Station and Mile 52.40 of the Uxbridge Sub (the level crossing at Kennedy Road. John Jeffery photo.
Here is the present Milliken GO Station at Steeles Avenue on Sunday, January 22nd, 2017 and you can see the retaining wall and right of way for the second track that have been constructed. The Station facilities at Agincourt, Milliken and Unionville are going to be expanded and improved to accommodate the addition of this second track. The new Milliken station will be located on the six lane underpass, where the level crossing is now. It will also be equipped with a canopy to protect passengers against the weather. John Jeffery photo
Here is the second track construction at Mile 55.44 of the Uxbridge Sub, immediately north of Agincourt Station. This is the south end of Phase One of this project and notice the conduit on the west side of the right of way for the new signal cables being installed. A sound wall is being constructed on the east side of the expanded right of way.
Agincourt GO Station will also be upgraded to accommodate the second track which will be constructed from this point southward to Kennedy GO Station in Phase two of this project.
Kennedy GO Station is part of the Kennedy Station multimodal hub, connecting with TTC Subway line 2 and the Scarborough Rapid Transit line, as well as TTC and GO Transit busses. John Jeffery photo
UNION PEARSON EXPRESS - (Weston Subdivision)
RIDERSHIP HAS TRIPLED ON TORONTO'S UNION PEARSON EXPRESS
The lower fares helped a lot.
October 18th, 2016 by Sean Marshall
https://goo.gl/Q3eFq4 - torontoist.com
UNION PEARSON EXPRESS - LATEST NEWS
https://goo.gl/e8P2nm - UPExpress.com
FLEXITY FREEDOM- LIGHT RAIL VEHICLE
TRAFFIC CHANGES COMING WITH LRT
January 13th, 2017, by Paige Desmond - Waterloo Region Record
https://goo.gl/3vChBq -therecord.com
ION TRANSFORMING WATERLOO REGION - Video (90 seconds)
November 22nd, 2016 Narrator - Darshpreet Bhatti - Director of Rapid Transit - Waterloo Region
https://goo.gl/NNA0Ly -youtube.com
CHIEF EXECUTIVE OFFICER'S REPORT - JANUARY 2017 UPDATE
CEO Report for Board Meeting of January 18th, 2017
SUBWAYS
A LOOK INSIDE THE TTC'S DOWNSVIEW PARK STATION
January 24, 2017 | by Robert Mackenzie
https://goo.gl/JicwvJ - urbantoronto.ca
The media were taken on a tour on January 24th, of Downsview Park Station on the Toronto - York - Spadina Subway extension. This is an excellent article, with some good photos.
REASONS TO LOOK FORWARD TO YORK UNIVERSITY'S NEW SUBWAY STATION
It's not perfect, but here's to looking at the glass half full.
By Tricia Wood
This article outlines all the community impacts of the new York University Subway Station, opening this fall on the Toronto - York - Spadina Subway Extension to Vaughan Centre.
https://goo.gl/NAvbBg - torontoist.com
STREETCARS
With files from Bryan Martyniuk
FLEXITY OUTLOOK LFLRV- FLEET. - 4400 - 4603 -
Updated January 23rd, 2017
Thirty Flexity Outlook streetcars were delivered from Bombardier in 2016. A second production line is being set up in Thunder Bay and Bombardier has promised to deliver 40 new streetcars in 2017.
The 510 Spadina line is now fully equipped with Flexity Outlook streetcars. The 509 Harbourfront and 514 Cherry Lines are being populated with Flexity Outlook streetcars as additional units arrive from Thunder Bay. Once that process is complete, the 505 Dundas and 511 Bathurst lines will be next in line to receive the Flexity Outlook cars..
4401 - Prototype unit -The last of three prototype trams that is not yet upgraded to the revenue service version. It continues carrying out testing and driver training. This prototype tram will be returned to Bombardier in Thunder Bay sometime in 2017, for upgrading,.
4400 and 4402 to 4430- In revenue service on the 509 Harbourfront line, 510 Spadina line, and 514 Cherry line.
4430 - The 30th Flexity tram - Entered revenue service on the 510 Spadina line on Saturday, December 31st, 2016.
COOL OLD TTC PHOTOS
STUNNING COLOUR PHOTOS OF TORONTO IN THE 1950S
Posted by Derek Flack / NOVEMBER 21, 2016
https://goo.gl/RZjs4x - blogto.com
(Edited by William H Baird)
editor@canadianrailwayobservations.com
A SEAHAWKS SURPRISE!
Some days you miss all the good stuff no matter how hard you try. Other days it just falls into your lap. Yesterday for me was the latter insofar as the Amtrak Seahawks Wrapped unit AMTK 90250 (Ex F40PHR) goes. For those who don't know, in support of the Seattle Seahawks of the NFL, Amtrak wrapped the 90250 with the Seahawks logo/colors. It's been around for a while now, but I haven't been able to catch it easily; especially in the Winter months when the only train of the four that come and go from here during daylight hours is 510 North around 1100 Hrs generally.
So my wife was busy in New Westminster for an hour and a half yesterday and I thought "I have to get to Sapperton Landing Park, Mile 144.0 on the CN New Westminster Sub, to see what the train will consist of". At this stage of the game these Amtrak trains are predictable and boring basically. I've got a million photos of this train already, so I don't really feel like loading up on more shots of them unless they are in a different location or equipped with different equipment.
No other traffic was on the move around where I was, and 510 had called the Fraser River Bridge Tender for permission to cross a few minutes before I got to the park. It was clear and sunny, which is especially bad for Northbound shots there in low Winter sun; and it was cool at just below freezing. I walked over to the river's edge to see when the train hit the bridge, which it did almost right away. Hard to see the equipment due to the distance and the haze, but I did see there was a unit on the back of the Talgo Trainset. Perhaps this is it. So I set up at my usual spot and waited. As you can see in the photos, luck was with me! And the best part was that since the unit was trailing, the sun angle was perfect for the "Going Away" shots with the 90250 facing me.
Now the lead unit (AMTK 470, EMD F59PHI), is worthy of note in that a few years ago it was wrapped for the King Tut exhibition held in Seattle. So I added one shot at the end here of it when it arrived on train 513 at about 0600 Hrs in October 2010. The light was low and the Canon 60D had a hard time with it, but at least I got it. (Andy Cassidy)