Steven Rathke Norfolk Southern Engineer
A 40 Fest
If there was one thing for which I would thank my father, it would be him introducing me to the world of railroading. He encouraged and nurtured my fascination with trains, whether it be modeling, fanning or photography. Some of my fondest memories track side were with my dad.
One of our favorite places to watch trains was the recrew pad at Toledo's Central Union Terminal. The recent formation of Conrail had trains passing through town with locomotive consists like I had never seen. At the time, I did not realize how fortunate I was to witness first hand a long freight beginning to pull out of a river basin with a mix of second generation GEs, ALCOs, and EMD's. The sound of three different prime movers in Run-8 combined with the aroma of spent diesel fuel solidified this young fan's love of the diesel locomotive.
Of all the engines that I watched and listened to back in those great days, none of them compared to a turbocharged EMD 645. To me, it was the sound of raw power. Listening to a solid consist of GP's and SD's go from idle to full power under load was a symphony of combustion that would bring a smile to the face of anyone who ever worked in London or LaGrange. In fact, it was everything about an EMD that infatuated me. And Toledo was the best place to see their products in various schemes and styles. Amtrak's Lake Shore Limited always had a mix of E8/9s until the beautiful SDP-40Fs arrived. I loved that cowl body so much that I saved several months of grass cutting money to buy a pair of Athearn FP-45s painted in the scheme. I still have them to this day. Norfolk and Western could always be depended upon to have some hi-nose variants in town, sometimes even the monster 20 cylinder SD-45. Those flair hoods looked so brutish. And then there was the Chessie System, a railroad that rostered another one of my personal favorites in the GP-30. Oh, I could go on and on. If they ever invent a time machine, you know where to find me.
Now, lets switch gears and go from railfan to professional railroader. When I was hired on the railroad in March of 1994, wide body locomotives on Conrail were the minority. I honed most of my skills on standard cab EMD's and GE's. In fact, my final walk around inspection and air brake seat box exam were conducted on GP-35 #2235! Through my training, I developed a respect for each of the locomotive builders and their various series of engines. Many of my peers have said that GE should have stuck with toaster production when expressing their disdain for their locomotives. While not easy to board and a cramped cab, I did come to respect the Dash 7 series. The dynamic brake on both the 4 and 6 axle version was incredible strong.
Ask any engineer worth his salt about his choice of locomotives and inevitably the SD40-2 will be mentioned. For me, nothing compares to the SD40-2. Everything about this locomotive is perfect. When it comes to ride quality, nothing comes close to beating this locomotive. This is due to the Flexicoil truck which provides a smooth, float like sensation, especially when traversing through crossovers and switches.
With porches at both ends, there is plenty of room to place your grip when getting on or off. Most importantly, they are an engineer's engine. They load amps when you need them and rarely slip. And if there was a minor mechanical problem, the engineer could most likely diagnose the problem and band aid it just enough to get the train into the terminal. With the railroads installing air conditioning on these now over 40 year old locomotives, even some of my less than enthusiastic coworkers are scrambling to get these engines on their job.
Prior to large orders of wide body engines on Conrail, all hot van and stack trains rated predominantly EMD locomotives, specifically mixes of GP-40-2s and SD40-2s. Looking back through some of my old time books, I had many runs with these types of consists at speeds up to 70mph. What a feeling it is to have your hand on the throttle of a quartet of 40s in Run-8 at track speed! To see them banished from the mainline and relegated to yard and locals is sad for me.
Several issues ago, I wrote about making a seniority move to a road local. Almost daily, my power is a single SD40-2. Usually, I will have the same unit for a week or two before it gets swapped out for another. Over the past year, I have thoroughly enjoyed coming to work knowing that one of these reliable work horses is my ride for the day.
Several years ago, NS purchased a fair amount of surplus SD40-2s from lessors. With the majority of these units having Union Pacific or BNSF lineage, the variety of SD40-2s on our roster now is incredible. Almost every option available from LaGrange can be seen, from snoot nose to hi-hood.
Norfolk Southern's shops have done a wonderful job with the SD40-2 remanufacturing program. The men and women in Altoona are true craftsmen, taking the locomotive and rebuilding it from the frame up. Some of these units keep their original cab, while the old hi-hood versions receive the "Admiral" cab, adopting it's name from the slightly slanted middle windshield.
So enjoy these pictures from my year long 40 Fest. It's been fun!
My power for today is freshly outshopped SD40-2 #3322. Built as a hi-hood unit for the Southern Railway, it now sports a new a new low hood. Nicknamed the "Admiral" cab, it mimics the slanted windows on an aircraft carrier to reduce sun glare.
I just put my engine to rest after putting it through the paces of a long days work. NS #3528 is probably the rarest SD40-2 on any roster. Once a Burlington Northern unit, it sports an SD45 flare hood. Back in the mid 80s, this locomotive wore a special paint scheme as it used by the BN in their testing of liquefied natural gas/diesel dual fuel.

Prior to priming the fuel filters and cranking the diesel engine, I took a quick break to take a picture of NS SD40-2 #3472. This is one of the younger units in it's class on the NS roster, being built in 1980 for the Burlington Northern as #7217. It is one of only a handful of units on the NS roster to have the distinctive nose mounted headlight.
We are stopped waiting for opposing traffic to clear up on the mainline, so I hop off to shoot the snoot! Norfolk Southern SD40-2 #3452 was originally built for Union Pacific as their #3431 in 1978. This unit is one of only four on the NS roster to have the extra long 116 inch nose.
Although they look great, hi-nose locomotives aren't the best to work on due to limited visibility. This unit does have dual control stands though, allowing the engineer the option from which side to run. Built for the Norfolk and Western in 1973 as #1634, it still wears the same number under Norfolk Southern. Here we are stopped at the long closed Nasby Tower, just outside of the yard.
NOTE: All photographs were taken by a professional railroader wearing the proper personal protective equipment, including reflective garments. Also, railroad safety rules and FRA Regulations were followed when photographs were taken. Watching and photographing trains is fun, but it can also be extremely dangerous. Please be responsible when track side and enjoy our hobby in a safe manner!
News And Photos From Our American CRO Contributors.
The Golden Hour was to a large extent cloudy, but Nikki Burgess did get a gleam or two at the right moments. Here BNSF 6984 heads them northbound with downtown Auburn, IL in the background photographed under a dramatic sky.
Dennis Weber shot Amtrak train #8, at La Crosse, WI on July 11th 2016 with P.V. (B&O Moonlight Dome) adorning the tail end, and running on Time!
Moonlight Dome is an actual ex-B&O car - Budd had to modify the dome contours for B&O's clearances. As they did on the California Zephyr Domes as well. Jerry Pinkepank (I) rode in one of these domes in 1963 on my way to a summer internship in the Justice Department in 1963, and although I was a coach passenger, a crew member allowed me to go up there for the passage through Pittsburgh, which was after midnight so no Pullman passengers were up there. He cautioned me just not to sleep up there and I didn't, heading back to my coach seat after we left McKeesport. This was just a year after the trip Dave Ingles, Hank Goerke and I had made to Pittsburgh, which David covered in an article awhile ago in Classic Trains, so the geography was familiar, and I wanted to see the steel mills at night. I don't actually remember the name of the car, but when I saw the name in this photo it did tickle a memory as if this might have been it. I recall that these cars were also fitted with floodlights for use in passing through scenic areas in the Alleghenies, but they were not in use when I was in the dome and I think would be more likely to have fit into the westbound schedules. (Jerry Pinkepank Photo). History of this B&O DOME: http://cincinnatirailway.com/CinciRailway/moonlight-dome/
LOOKING GOOD! The cut lever of Vermont Railway RS-1 405 provides the framing for the arrival of Pan Am Railway's Heritage Fleet: PAR FP9 1 and 2 and MEC GP9 77 and B&M 52. Photo by Evan Kerr - Railfans of the USA Admin.
Freshly painted (Chicago Ft. Wayne and Eastern RR SD40-2 (CFE 3487) was sitting at the IHB yard in Riverdale. IL for Mike Garza to photograph on July 8th. The G&W-owned CF&E has been operating out of the IHB (Indiana Harbor Belt) yard in Riverdale, IL ever since the railroad's inception.
Here are four shots from Shawn Heller taken June 12th in Vancouver, WA.
UP train M-PTPS is rolling off the bridge in the early morning with UP 7940, 4082, and 4246 on the head end.
It's now afternoon and the BNSF H-VAWBAR is departing with the 6567, 7620, 2767 up front, and no DPUs.
A UP stack train is passing by the depot with the 8859, 4020 leading, plus the 7240, 7970 on the back end.
UP 7240 and 7970 are the DPUs on the 8859's stack train.
Nikki Burgess shot yet another gorgeous vista along Puget Sound. Amtrak #11 flies by the marina at Day Island south of Tacoma, Washington on July 10th. The famed Tacoma Narrows Bridge looms in the distance.
A Very Rare Sight! On July 10th, Amtrak #14 was led by a GE-built B32-8WH locomotive (AMTK 505) the sole power for the train as it passed CP Pioneer in Steilacoom, Washington. Seeing one of these leading a long-distance train is rare enough these days, seeing one doing it solo is a real catch! Apparently power shuffling issues in Portland, Oregon led to this unique situation.
Dennis Weber shot this great looking Wisconsin & Southern (WSOR) freight at Prairie du Chen, WI, back in October 2010, led by pristine WSOR 5051. WSOR power always great because their loco shop in Horicon, Wisconsin is a contract quality paint shop as well.
Dennis Weber shot Canadian Pacific train No 885, with Chicago & North Western locomotives (C&NW 8822 and 8660), at Dakota, MN back in July 1995.
CP train H-19 has DM&E 6095 and SOO 6027 at Dakota, MN on May 2oth 2015.
At Sharon California George Manley caught brand new BNSF ET44C4 3764 on May 9th. This is the first unit delivered of the latest order of GE-built C-4's, which are numbered BNSF 3764 to 3829.
At Vancouver, WA on April 16th 2016, a BNSF grain load is pulling to a stop at 11th Street for a crew change. BNSF SD70ACE 9059 is on the point with BNSF 6038 and BNSF 6111 as the DPU. (Shawn Heller).
On the BNSF Bakersfield Subdivision at Hanford, California, Matthew Griffin caught PRLX SD40T-2 2925 looking great in fresh paint on May 4th 2016. It is one of two SD40T-2 locomotives currently on lease to a large grain mill at Hanford, CA.
STREET RUNNING! On June 1st, David Kelsch shot Grand River Railway EMD-built SW1200 #1202 heading down the street trackage in Grand River, Ohio with five loads of sand in former Milwaukee Road covered hoppers. My two partners, Tom Nord and Terry Feichtenbiner, and David started up this 2.5 mile shortline on June 18, 2015. The line is former B&O and NYC and was inactive from 2003 to 2015. They also have a second EMD SW1200, number 1205. Both engines are former Aliquippa and Southern / Ohio Central.
BNSF HEAD-ON CRASH IN THE TEXAS PANHANDLE:
The head on in Texas on June 28th 2016 claimed the lives of three BNSF crewmen, and there were locomotives involved that were destroyed. The EB BNSF Train Q-CHISBD27 had the lead locomotives destroyed (BNSF 5416, and 7553), with the trailing power (BNSF 7907, 8191 and 5212) to be evaluated for repair. The WB BNSF Train S-LACLPC had units BNSF 5162, 7838, 3967* (a brand new C-4 from GE). The two DPU's at the rear of the WB survived the collision (BNSF 8234 and 3970). Three of the five units damaged on the EB (BNSF 7907 and 8191 and 5212), are being evaluated and may be able to be repaired and put back in service. The two lead units were scrapped on site.
NEW GE's for BNSF:
Joe Di Bella shot brand new GE-built ET44C4 BNSF 3904 on display at the Galesburg Amtrak Station for Railroad Days on June 25 and 26th.
Norfolk Southern Altoona Shop:
Tom Boylan shot 891 a slug built at the NS Altoona shop on NS 15V heading through Attica Ohio to Bellevue in early July.
Work continued on NS SD40-2 3437 in July at the Altoona Shop, in Pennsylvania. This 50 year old EMD is being stripped down for rebuild to SD33ECO. (Photo by D.J. Miller).
California approves Electrification project:
The board of Californian commuter rail operator Caltrain has approved contracts with a total value of $US 1.25bn for the electrification of the San Francisco - San Jose line, together with a new fleet of electric trains for the 82km route. Balfour BeaĴy Infrastructure has been selected for a design-build contract to electrify the line, while Stadler USA will supply a fleet of double-deck EMUs to replace the locomotive-hauled trains currently in operation. The request for proposals specifies eight-car trains, although some stations will only initially accommodate six-car sets. the order will be for 96 vehicles with an option for 20 additional cars. The 25kV 60Hz ac trains will initially operate at up to 127km/h, but will need to be capable of 177km/h running for blended operation with California High-Speed services, which will also use the San Francisco - San Jose line. Blended operation is expected to begin in 2026-29 with six Caltrain and four high-speed services per hour anticipated at peak times.
The two contracts have been approved with a limited notice to proceed and Caltrain says a full notice to proceed will only be issued when it secures a funding agreement with the Federal Transit Administration (FTA), which is due to be finalized later this year. The total budget for the Peninsula Corridor Electrification Project (PCEP) is $US 1.9bn, which includes $US 697m for electrification, $US 551m for new rolling stock, $US 416m for separate contracts and support costs, and a $US 316m contingency fund. The largest share of funding ($US 978m) is expected to come from federal sources, with the state of California providing $US 751m. The remaining $US 261m will come from local and regional sources. Local and state funding has been secured through a series of agreements between Caltrain and the Metropolitan Transportation Commission; Caltrain's member agencies in San Francisco, Santa Clara and San Mateo Counties; and the California High Speed Rail Authority. In 2015 Caltrain applied for a $US 647m grant from the FTA Core Capacity Program. In February, the Obama administration allocated $US 73m in prior year funding to the project and requested the inclusion of a further $US 125m in the 2017 federal budget. Shar e 14/7/2016 Caltrain approves electrification and EMU contracts ( International Railway Journal).
Walter Pfefferle CRO Web Guy
I was off again to Ohio to visit Fostoria and Bellevue and all the other host spost in the area from July 18 to 21st 2016. These are some of the highlights.
July 18 Fostoria Ohio
Visited the RailPark and caught the local with NS 3473 Operation Lifesaver pushing west to service the new industry in town with coils of steel for off loading.
Not long after that NS 9803 with NS 9000 rolled by heading west with a long mixed train. The RailPark is a great train watching spot. Visit their web page to find out more
A visitor from Canada CP 8780 leads NS 9599 east through Fostoris on the CSX mainline with an oil train.
Also caught a four pack of CSX units rolling into Fostoria from the west.
July 19 Attica and Bellevue Ohio
On the way to Bellevue spotted this pair of CP units waiting for a southbound CSX train. As the CSX unit rolled by I caught them as the 90F heat relentlessly rained down.
Spotted this ALCO S1 Heritage 19 sitting in Upper Sandusky Ohio. It is owned by Heritage Cooperative and is used to move car around their complex.
Arriving in Bellevue I was lucky to catch Wheeling and Lake Erie leaving with 6987 6310 and 6311 and heading south.
Later on in the day they showed up with Ann Arbor 238 as the trailing unit.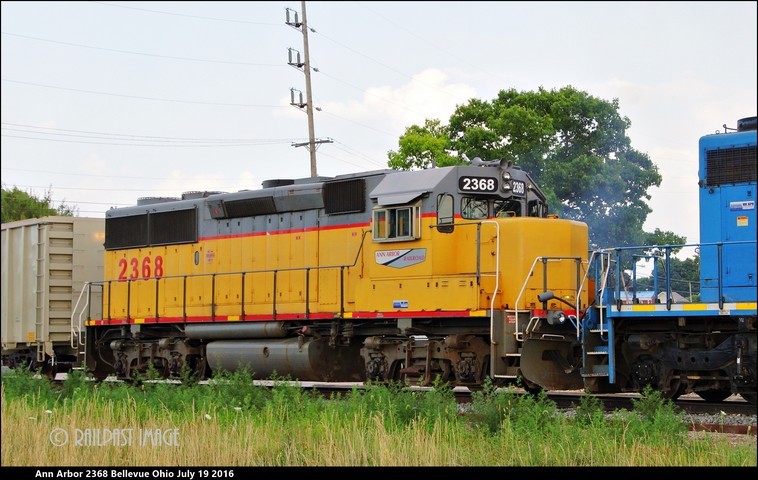 July 20 Bellevue.
The NS Tech Train showed up but I was in the wrong spot but did manage to catch them as they turned on the wye.
NS 34 is definetely a differnt looking kind of unit.
Lots more W&LE action as 3067 showed up heading to Toledo. W&LE ruin a push pull operation to Toledo so there is always more power on the othee end.
The trailing units on the same train which are now leading as they head to Toledo were 6985 and 6356 as they roll past the Mad River Railway Museum.
Here we see 3067 which is now trailingit trailing as it heads past the Mad River Museum in Bellevue.
July 21st Bellevue, Oak harbor and Millbury Ohio
I caught W7LE 6994 and 6984 heading South out of Bellevue Ohio
On the 21st, date on the photo is wrong, W&LE 6994 and 6984 roll across the bridge at Monroeville Ohio just south of Bellevue.
Back in Bellevue the only Heritage unit I caught was NS 8105 as it rolled into town leading a long mixed train.
Off to Oak Harbor and spotted this oldie but goodie sitting in the yard. NS still uses it and it looks like it has many miles left on it yet.
BNSF 8109 crawled through Oak Harbor heading south with NS power trailing.
NS 9620 leads CP 9837 east as it blows through Oak Harbour.
The following two photos show the diversity of railroad roads and what they carry. These Army vehicles were on the same train and headed to a new home.
Now in Millbury Ohio NS 9884 rolls though with stacked trailers on the tailend.
Thanks for looking. I will be heading back again in August and have other photos to share.
Would you like to see your photos here?
Send us your USA Vignette photos.
Union Pacific Railroad Monsters
This month, let's take a look in detail at Union Pacific Railroad's glorious Monster Double-Diesel fleet encompassing the 1960-1980 period in American Railroad history.
General Electric offered UP two different models, first came the U50 which rode on four two-axle trucks, grouped in pairs linked by span bolsters, giving a wheel arrangement of B+B-B+B. The trucks and bolsters were re-used from scrapped UP turbine locomotives built by GE during the 1950s. The U50 was built in response to the Union Pacific Railroad's requirement, issued in the early 1960s, for a 15,000 hp (11,200 kW) 3-unit locomotive intended to replace the turbines. The design was effectively two U25B locomotives on a single frame; each diesel engine and generator powered only the two trucks at the same end. Three were delivered to the UP in October 1963, as well as three to the Southern Pacific Railroad in May and June 1964. Other locomotives built to this requirement were the EMD DD35 and the ALCO Century 855.
<![if !supportLineBreakNewLine]>
<![endif]>The Southern Pacific kept the three they purchased but did not order any more. They were kept on the roster until the late 1970s, but were often sidelined. SP's units gained the nickname "Baby Hueys" from the cartoon character of the same name. The Original numbers were UP 8500-8502; they were later renumbered UP 9950-9952. Southern Pacific's three GE units differed from the Union Pacific U50's by having a cab door and headlights in the hood, beneath the front windows.
The Union Pacific was more satisfied with their three, and ordered 20 more. A batch of 12, were delivered between July and September 1964, while a final eight were built May through August 1965. They were numbered UP 31-53. Most were withdrawn from service in 1973 and 1974 and traded-in to GE for more modern high-powered units, although Southern Pacific's three survived in service until 1977.
The U50 is sometimes inaccurately referred to as the U50D, a back-formation from the U50C name given to the six-axle units. The name is incorrect and was never used by the manufacturer or the railroad. The U50 did not ride on D trucks in any case. It is also sometimes referred to as the U50B, but this is incorrect as well. Some Wiki references erroneously give the wheel arrangement as B-B+B-B, but they C-C units.
The second General Electric model was U50C. A 5,000 hp (3,700 kW) diesel-electric locomotive built by GE Transportation Systems and was powered by two 2,500 hp (1,860 kW) diesel engines. Forty were built between November 1969 and November 1971 solely for Union Pacific, which numbered them 5000 to 5039. The U50C used a pair of three-axle trucks instead of the four two-axle trucks used on the earlier U50. Again, these were reused trucks, this time from the later, 8,500 hp (6,300 kW) GE turbine locomotives. Development of the U50C was to the same UP specification that produced the EMD DDA40XX "Centennial" units, a requirement for a high power locomotive for the railroad's high-speed freight trains. The span-bolster B+B-B+B design was not suited to this service, and the requirement for power at speed rather than low-speed hauling meant six powered axles would be sufficient. The design incorporated extensive weight saving features. GE replaced the16-cylinder prime movers of the U50 with advanced 12-cylinder engines, lighter and shorter. The engines were reversed in orientation compared to the U50 so the radiator sections were at the middle of the locomotive instead of the ends of the carbody. The shorter length required a wider radiator section design, as on the U33B and U33C locomotives. An interesting little bit of trivia on these, is that GE forgot to add the "DEPENDABLE TRANSPORTATION" logo to the cab on the first few units and they were plagued with glitchy problems. Mostly from the fact GE used aluminum wiring in the U50's. This fleet were only in service for about 10 years in total.
Problem plagued the U50C and it was not successful. The weight saving measures taken to make the locomotive able to use six axles rather than eight caused problems, especially in the electrical wiring; Aluminum wires instead of the regular copper had been used, which proved prone to overheating. The U50Cs had many electrical fires as well as other failures; the UP rewired one unit with copper experimentally and considered having an outside contractor replace the wiring on all the units, but decided that the problems as a whole were too serious. The trucks suffered from stress cracks in the cast frames; the engines frequently developed low oil pressure; the cooling water leaked, and the dynamic brake grids were prone to melting down.
A business downturn in 1976 proved the end of the U50C in service; all were withdrawn, although many were stored in serviceable condition. No return to service occurred, though five were lent out as stationary power generators during a coal miners' strike in early 1978. All were sold for scrap during 1977-1978. (Wiki)
The ALCO-built Century 855 was their most powerful diesel-electric locomotive ever constructed and at that time, was the most powerful locomotive ever built. Powered by a pair of 16 cylinder ALCO 251C diesel engines, and rated at 5,500 hp (4,101 kW), it was ALCO's answer to the EMD DD35 and the GE U50. The C855 rode on four two-axle trucks, grouped in pairs linked by span bolsters, giving a wheel arrangement of B+B-B+B. The trucks and bolsters were similar to those under UP's earlier turbine locomotives. Only two A units and one B unit were built, all for Union Pacific Railroad, which had also requested double-engine locomotives from EMD and GE in order to replace the turbines, which had become uneconomical to operate. Union Pacific also wished to reduce the number of locomotives needed on a consist, to keep in line with their allowable gross weight limit. By consolidating several locomotives into one or two, this allowed them to lower the axle load on the rails, but to stay within the limits placed by the company. They spent their lives in the general freight pool at North Platte, however poor performance led to their early retirement and eventual scrapping by February 1972. (Wiki)
The EMD DD35 was a 5,000 horsepower (3,700 kW) diesel-electric locomotive of D-D wheel arrangement built by General Motors Electro-Motive Division for the Union Pacific Railroad and Southern Pacific Railroad. In the early 1960s, Union Pacific started asking for a 15,000 hp (11,200 kW) 3-unit locomotive set to not only replace their turbine locomotives, but to bring new generation of diesel locomotives to the states, and then put them into use. The DD35 was a cabless booster (B unit) locomotive that consisted of two GP35 locomotive prime movers (engines) and electrical systems, mounted on a common frame and covered with a single cowling, riding on a pair of 4-axle Flexicoil trucks, so each prime mover was powering a single set of 4 axles instead of two sets of 2 axles, as in the GP35. Being a "B-unit", the DD35 lacked any sort of cab, and could only be run on the main line when connected with another "A-unit" to control it. The 4-axle truck was considered too harsh on the track work to be in the lead, and thus EMD's response to UP's request was a 4-unit (instead of the requested 3-unit set) locomotive set, consisting of a pair of 2,500 hp GP35s sandwiching a pair of DD35s, to make one 15,000 hp locomotive set (basically six GP35's in four units)
EMD produced a demonstrator set like this in September 1963, painted in striking red and white (similar to the Frisco's livery). It was demonstrated on a number of railroads, but the only interest came from Union Pacific and Southern Pacific. UP bought the entire 4-unit demonstrator set, and followed up with an order for 25 more, which were delivered from May through September 1964. The two demonstrator locomotives were numbered 72B and 73B; the 25 production locomotives were assigned 74B through 98B.
Southern Pacific ordered a small, three-unit sample, which were shipped with old-style bearings from six F3B trade-in units, but ordered no more. They were numbered 8400-8402, later 9500-9502, and still later 9900-9902. They were used on the SP's Sunset Route early in their lives, but were among the first locomotives sidelined whenever there was a downturn in traffic. Later, they were relegated to transfer service between West Colton and yards closer to Los Angeles, mainly Taylor Yard north of downtown. SP scrapped all three units in 1978 after their leases ran out.
The DD35's were initially quite unreliable; some of this was blamed on sand from the internal sandboxes getting in electrical gear, so new sandboxes were fitted on the walkways in 1969. They were among the last EMD road units to be built with DC generators and old-fashioned switchgear, which were more maintenance-intensive than the later AC/DC equipment.
Once teething troubles had been surmounted, the DD35s were reasonably successful, but they were less flexible than smaller units and thus all of the original B units were withdrawn by 1977 as the railroads fell on harder times. The DD35A's survived a little longer, until 1981. (WIKI)
EMD-built DD35a Size comparison with the taller GE-built U50:
The EMD DDA40X is a double diesel-electric locomotive with a capacity of 4860 kW (6600 hp ) built by EMD at La Grange, Illinois for the Union Pacific Railroad. The "Centennial" diesels have two V16 turbocharged 2430 KW (3300 hp) each which makes the Diesel engine the most powerful in the world in a single unit , although some recent locomotives such as the GE AC6000CW , EMD SD90MAC are approaching this performance. The DDA40X is also the longest Diesel locomotive in the world in a single unit. (Wiki)
(The Scale Profile Drawings are Courtesy of William Morrison).
Click HERE to Submit Photos to South of the Border
Copyright CRO August 2016