Steven Rathke Norfolk Southern Engineer
If there is one thing that I have learned after working 23 years on the railroad, it is to always expect the unexpected. As I mentioned in last months article, I am responsible for bringing in all freight railroad display equipment at Toledo National Train Day. I looked forward to this year as only two locomotives were in my charge: Norfolk Southern #911 and Watco #3879.
With the Watco yard being just a few miles from the event location, my focus was on getting the #911 across the system and into Toledo on time for Train Day. I had hoped for the locomotive to be in Toledo by May 5th. To my surprise, NS did a fabulous job and had her into town on Monday, May 2nd. For me, the hardest part was over. Now all I had to do was get the Ann Arbor unit a half a dozen miles off of her home rails and into the Amtrak depot for display. Easy right?
After several meetings, phone calls, and emails, a plan was in place. On Thursday, May 5th, the daily NS puller was going to bring the Watco #3879 back with their pickup of auto racks and general freight. Once into our yard, I would meet the crew and chaperone the engine down to the station. All things being normal, I would be back home by 8pm that evening.
Well, Thursday's plans fell apart. The outbound puller never left our property due to power problems with the train's single locomotive. Now second shift was going to take over and make the round trip to the Watco yard. This is all well and good, but everyone in loop regarding the engine were first shift employees and now home enjoying dinner. When morning came, I found the engine was no closer to the depot than it was 24 hours prior.
Now it is crunch time, as I have a photo shoot arranged with the local newspaper and several emergency response agencies at 2:30pm. With the help of supervision and yard masters from both railroads, a special move was arranged. The engine was run "lite" from Ottawa yard to the Amtrak station, arriving just before 1pm. Here we are seen leaving the Ann Arbor fuel pad and passing some old 40 ft. boxcars still wearing the "Ferry in the Fog' scheme. My sincere thanks goes to everyone involved with getting this engine into position on time.
The 2016 Toledo National Train Day was another huge success. The evening prior to the event, we held our annual fund raiser which was well attended. Immediately following the fund raiser was a night photo shoot of the track side display hosted by myself and illuminated by David Patch. On Saturday, Mother Nature provided a great backdrop for visitors to enjoy Train Day.
If you are not aware, the future for many of the National Train Day celebrations across the country are now questionable due to Amtrak's decision to halt their participation with the events. For non railfans who have never ridden a train, the biggest attraction for them is a chance to walk through and tour an Amtrak consist. I believe that it will be very difficult for organizers to draw visitors to Train Day where no actual railroad equipment is open for viewing. Toledo is no different.
Enjoy the above images from this years event. Hopefully, it is not our last!
NOTE: All photographs were taken by a professional railroader wearing the proper personal protective equipment, including reflective garments. Also, railroad safety rules and FRA Regulations were followed when photographs were taken. Watching and photographing trains is fun, but it can also be extremely dangerous. Please be responsible when track side and enjoy our hobby in a safe manner!
News And Photos From Our American CRO Contributors.
Mike Ray took this cool shot on May 30th, on the US Memorial Day holiday. In honor and remember their Fallen Soldiers and Firefighters NS paired up NS SD60E 9620 (Honoring Our Veterans) locomotive back to back with with NS SD60E 9-1-1 the (Honoring our Fire Responder's). (Mike Ray NS LOCOS Photo)
Walter Pfefferle made the trip to Elkhart IN to catch Norfolk Southern OCS - Office Class Special as it rolled through may 26th 2016. What a beautiful train, 2 A units, 2 B units and 14 matched meticulous prepared passenger coaches. Four and a half days of sunshine but the morning the OCS came through saw overcast and dark conditions. An hour after the train passed through brighjt and sunny again.
Here is a video from two different cameras as it rolled through.
The Tennessee Valley Railroad Museum is pleased to announce the recent donation by Norfolk Southern of former Southern Railway diesel locomotive 3170, a model SD40. Built by the Electro-Motive Division of General Motors in April 1971, 3170 was the first of 159 SD40 and SD40-2 units eventually rostered by the Southern, and she served for nearly forty years before being retired. Recognizing 3170's historical significance, Norfolk Southern, successor to Southern Railway, set aside the unit for preservation, while most sister locomotives were either converted to other uses or scrapped.
In 2015, NS returned the 3170 to service and repainted it in its original Southern Railway "Tuxedo" (black, light gray and gold) paint scheme. 3170 has spent the past year as the diesel escort for 21st Century Steam excursions and on display in special appearances across the NS system, as well as in regular freight service. SD40 locomotives were the most popular freight haulers of their era. They replaced the so-called first generation diesel locomotives that themselves displaced steam locomotives in the 1940s and 1950s. 3170 is believed to be one of only four SD40 locomotives preserved, out of approximately 1,268 built. Each is powered by a 3,000 horsepower 645-series General Motors engine.
For TVRM, Southern 3170 has additional significance: It joins Southern Railway steam locomotive 4501 in TVRM's collection, which was built in 1911. 4501 is a Mikado type locomotive built for everyday freight-hauling service and can be considered the SD40 of its day. 4501 was the very first of 435 Mikado-type locomotives eventually owned by Southern. Like 4501, Southern 3170 will help to fulfill TVRM's mission of preserving, interpreting, displaying and operating trains in an authentic setting.
A formal dedication of the locomotive will be scheduled in the future. Log on to www.tvrail.com for more information.
NREX 700 was shot by Mike Garza at NRE in Dixmoor, IL on April 17th, lettered for Richardson. NREX 700 is a 1GS7B Gen Set built as NRE demo 700 in 2009. She is en route to Richardson in North Vancouver
A rebuilt EMD SW1500, repainted and relettered CBFX 1598, was photographed by Mike Garza at Barr Yard on April 15th. Barr Yard is the main yard of CSX. It is in Riverdale Illinois. It's located just a few blocks from the IHB Blue Island Yard.
Norfolk Southern train 20K had a clean SD70ACe (NS 1125), at Hammond, Indiana on April 9th.
CSX train Q157 had a recently painted GE in the new box car logo at Blue Island, Illinois on April 11th.
CSX 4389 is the CSX 8888 reincarnated! As Jason Lambert wrote "Crazy 8's lives!" This was CSX SD40 8888 the famous runaway locomotive that inspired the movie "Unstoppable"
Wearing the old "bright future" paint scheme CSX 5006 still looked pretty good when shot on the IHB at Riverdale, IL on April 12th.
At Blue Island, IL on April 12th, Mike Garza caught this IHB industry job with a couple of old Indiana Harbor Belt cabooses, now used solely as shoving platforms for the conductor.
Mike Ray shot these rebuilds at Chattanooga, TN in late April.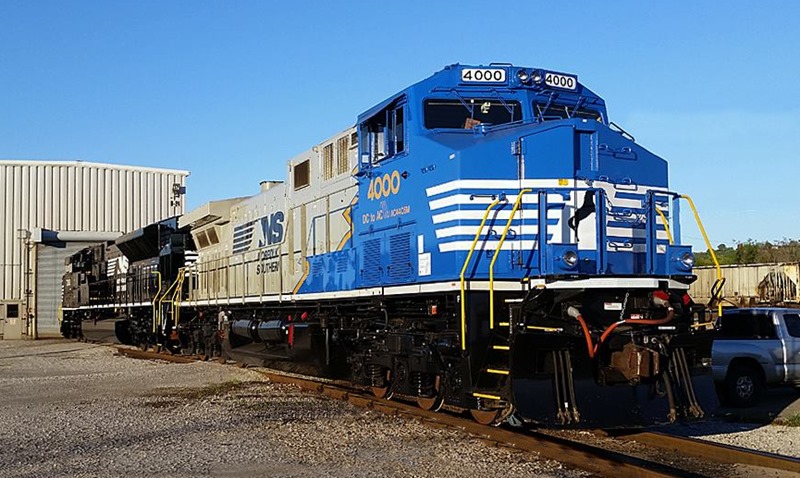 George Manley's friend Matt caught these trains at the UP Yard in South San Francisco, CA in Late April. The SSF yard in south San Francisco, that one time was a very huge industrial area, but it is just a shell of its former self. There is still traffic to be had...the biggest traffic out of the area is hauling contaminated dirt from the industrial and port area to Utah where it is dumped into the empty copper pits. There are about one to two train loads a week today.
The entire roster of the West Belt Railway in St. Louis sits at the Union 70 Center in North St. Louis. Taken with Permission from Security after picking up from Clark Logistics. One must have a reason to be at Union 70 otherwise security will turn you away.
Louisiana & Northwest GP38 #3807
Foster-Townsend GP38-2 #3810
Utah Central GP9 #100
Piedmont and Northern GP15-1 #1434
Shawn Heller shot this old school BNSF lash up with BNSF 2767, 2307 and 2265 gathered on the tail track in Vancouver, WA on March 25th .
While your Editor truly adores the Santa Fe Warbonnet painted units that survive, I hope to God BNSF will repaint this B40-8W. Built by GE in November 1990. BNSF 552 looks bad enough faded but now has been Tagged in Grafitti. BNSF 552 was seen in Kansas City for some service work, still operational in mid-April! (George C. Manley photo).
Keel Middleton took this photo of former BNSF SD40-2 (nee-CN SD40 rebuilt by Alstom in Montreal) lettered for the Cherryvale, KS Sports Teams. Cherryvale is where the SKOL is headquartered.
This is Scott Gordon's great shot of Southern Pacific GS4 #4449 entering Tacoma Rail back In June 2011.The locomotive is a semi-streamlined 4-8-4 (Northern) type steam locomotive built by LIMA for high speed passenger service.
On May 9th at Sharon California George Manley caught brand new BNSF ET44C-4 3764, the first unit of the newest order of GE-built C-4's which are to be numbered BNSF 3764 to 3829.
At Vancouver, WA on Sunday, 4-10-16, a BNSF grain load is pulling to a stop at 11th Street for a crew change. SD70ACE #9059 is on the point with the 6038. The 6111 is the DPU.
PRLX SD40T-2 2025 looks great freshly painted on May 4th 2016. It is one of two SD40T-2 that are on lease to a new grain mill at Hanford. BNSF Bakersfield Subdivision at Hanford, California, (Matthew Griffin photo)
http://www.railpictures.net/viewphoto.php?id=575803&nseq=84
Just like CP and CN Norfolk Southern also has many stored units. CEFX 6024 is one of many engines currently stored at Roanoke, Virginia. This shot was taken May 7th, 2016 by Brian Edmonson. Note the Soo Line SD60's!
http://www.railpictures.net/viewphoto.php?id=575745&nseq=142
Brian also sent another photo from the Roanoke Yard of the middle of the dead line where a few B32 Dash 8 are located. (Brian Edmonson).
Sierra RR GP20 #48 with dinner train (all new paint scheme) was shot by George Manley parked at the Oakdale California station. 12/26/15.
Headquarted in Jamestown CA, Sierra RR GP20 #50 and Railpower genset #52 parked at the Oakdale engine facility.dale Branch).
Mike Ray of NSlocos.com submitted his great night shots taken at the Tennessee Valley Railroad (TVRM) Soule Diesel Shop in East Chattanooga, TN on April 28th. The locomotive is TVRM`s newly repainted Tennessee Alabama & Georgia Railway GP38 (TA&G 80).
Text and Photos Walter Pfefferle CRO Web Guy
Every year for the last 5 I have volunteered at the Toledo Train Day held at the Martin Luther King Jr Station in downtown Toledo. I usually go down early and stay a few days later railfanning Ohio. Ohio is a hotbed of rail activity with Fostoria and Bellevue seeing almost 100 trains a day roll through. Here are some of the highlights of the trip.
Thursday May 5th Fostoria Ohio
Weather started off cloudy and one of the first trains I caught was a eastbound stack train with two brand new CSX ET44AH's leading. CSX 3390 and CSX 3391 roll across Poplar Street in Fostoria Ohio.
If you have not been to the new Fostoria Iron Triangle RailPark, add to you bucket list. A great safe family spot with open spaces and lots of action. Here we see CSX ES44AC-H 945 and AC44CW 127 coming off the old C& O and moving to the ex B&O and past the RailPark sign.
Friday May 6th Toledo Ohio
Bright sunny day as NS Dash 9-44Cw 9375 showed up with UP EMD SD70M 4147 with a load of army vehicles mid train. Not something you see everyday so a highlight for sure.
I caught NS 7327 SD70ACu, rebuilt SD90MAC and NS SD60 fresh from the shop as they rolled through Holland Ohio, a suburb of Toledo.
Also in Holland NS SD90MAC ex UP 7255 leads NS 8787 Dash 9-40C and NS Dash 9-44CW west toward Chicago.
I spotted this R J Corman caboose at Millbury Ohio as I roamed around looking for trains. It sits at their facility at Milbury Ohio, just outside Toledo.
Saturday May 7th Toledo National Train Day
A day of celebrating trains and rail travel with model train displays, buy and sell and anything to do with trains.
Locomotive line up was as follows:
Norfolk Southern: #911, a SD60E adorned in a special First Responders paint scheme
Watco: #3879, a GP38-2 wearing the "Heritage" paint of the Ann Arbor Railroad
Amtrak: a P42, new CAF baggage car, Viewliner sleeper, diner, and Amfleet 2 coach. A "mini" Lake Shore Limited
Another National Train Day in Toledo with over 7000 people all eagerly waiting to get their photo with NS SD60E 911 "First Reponder Locomotive"
AMTRAK supplied a train set as well as P42 156 in Heritage colors.
And WAMX GP 38 3879 from the Ann Arbor Railway
A great day and looking forward to next years.
Sunday May 8th Bellevue Ohio
Always look forward to Bellevue as a big NS fan and Bellevue is huge now with over 100 trains and 160 classification tracks as well as NS Shops. Another reason is Wheeling and Lake Erie pass through Bellevue almost every day.
I had just arrived as I spotted W&LE arriving but I was on the wrong side and they were behind another train. A quick 10 minute trip to the east end of the NS yard caught them switching out their train. Power was ex EMDX SD40-2 6382, ex WC SD40-2 6316 and ex WC ex UP SD40 3034.
I also caught them as they were leaving Bellevue later in the day.
Another of NS rebuilt SD60's 6974 SD60E with NS designed wide nose and cab arrives from Bucyrus Ohio.
It seemed NS 911 followed me to Bellevue as it arrived led by NS EMD SD40 -2 3473 Operation Lifesaver unit with mis-matched number boards, NS SD40-2 3410 and SD60E 911.
A typical day in Bellevue as NS Dash 8-40CW heading to Fostoria and NS SD70M-2 heading to Bucyrus Ohio wait for a green light to leave.
Monday May 9th Sandusky Ohio
The NS "White House" M of W train was sitting across from the Sandusky Ohio station and is a sight to see.
Even has it's own dining room on wheels.
Looking like a model on somebody's layout, NS GP60 7112 sits near the M of W train and may be the power.
May 9th Oak Harbor Ohio
Rain was moving in and one of the last trains I caught was NS SD70 ACe 1069 "Virginian" with NS Dash 9 9774 trailing rolling through Oak Harbor Ohio.
Always lots of action and different stuff to see in Ohio. I plan to return in about two weeks and hit some of the many other great railways spot there.
Be Safe Out There
RAIL TRAFFIC DEPRESSION:

292 Union Pacific Engines Are Sitting In The Arizona Desert Doing Nothing
Om May 9th, Hugo Garcia shot brand new UP SD70ACe 9028, 9030 and another sibling in the Valley of Mexico. The next day they were moving north.
The SP Heritage unit and two older UP SD70ACe siblings arrived to in the valley of Mexico Pantaco - Nuevo Laredo. the morning of May 13th, to lift brand new UP EMD's north.
Hugo Garcia also shot freshly painted Lascasiana (LASX 3800) in the Valley of Mexico on May 12th. This is a GP38-3 rebuild from a Mexican company in San Luis Potosi, dedicated to rebuild locomotives. http://lascasiana.com/nosotros/
Brand new KCSM ET44AC's are shown coming out of the Valley of Mexico Pantaco - Nuevo Laredo, May 10th.
Would you like to see your photos here?
Send us your USA Vignette photos.
SOUTHERN PACIFIC STEAM VIGNETTES:
On 7-6-1956, Southern Pacific GS-3 4415 is on the point of commuter train no. 148 sitting at the station in San Francisco, CA. The engineer hasn't got the OK yet to depart the station, and begin the journey to San Jose. .The faster express trains could do this trip in about 55 minutes! However the slower all stops commuter trains could take over an hour and 20 minutes. In the 1950's there are about 16,000 passengers riding the trains! (George Manley photo collection).
The location is Santa Clara, California, and the date is 7-9-1955. Southern Pacific GS-3 4418 has just cut off from her Commuter train from San Francisco, and is headed to the San Jose roundhouse. (George Manley photo collection).
GRAND TRUNK WESTERN VIGNETTES: (by Doug Hately):
GTW GP9 4138 was shot on July 9th, 1967 (Location unknown -Doug Hately Collection).
In Chicago, IL on May 26th, 1966 L. Henkells shot CN F3A 9012.
Grand Trunk GP9 4445 was built by EMD in May 1956, and was shot by Doug Hately near Oshawa, Ontario on March 30th, 1967.
GTW F3A 9024 (No information).
ELSEWHERE:
Back in 1962, Don Haskel shot these beautiful B&M GP9's and a low nose GP18 crossing Green River in Greenfield, MA with a priority freight.
| | |
| --- | --- |
| Bill Grandin shot D&H 29229 in the classic Yellow with black ends paint scheme from the 1970's in Agincourt yard Toronto | |
To go along with the D&H boxcar seen above, here is a piece of equipment the D&H got to support their expanded operations due to the Conrail merger. Obviously a former Etie-Lackawanna caboose it was shot at Oneonta, NY and shot back in October 1978 by Roger Durfee. D&H 35815 was built as EL C-378 in Oct 1970 and acquired by D&H in April 1976.
Click HERE to Submit Photos to South of the Border
Copyright CRO June 2016