(Listed by Province / State)
The owner of the 1909 Grand Trunk Pacific (Canadian National after 1919) railway station from Unity, Saskatchewan, Gary Southgate of Battleford, SK, has moved the station from Unity to Mossleigh, AB. The station arrived this past week and is for now being stored on private property about 1.5 miles west of Mossleigh. http://tinyurl.com/zygf6x5
Click on the attached link (paragraph 3 & 4) for information on the possible future use of the building:
Two Locomotives Roll into Railtown
Chamber of Commerce executive director Tom Thomson couldn't be more thrilled about the two historic Fairbanks-Morse diesel locomotives coming to Railtown, but there are community members who've got him beat in the enthusiasm department.
"There's a real buzz in the train fanatic world," Thomson told the Star, describing how he walked into his office one day to find a former engineer of one of the trains pacing in his office.
Full story HERE
Kettle Valley Railway - Coquihalla Pass 100 Years Later
Today, July 31, 2016 is not a day which will live in infamy, however it is a day which was remembered and celebrated in honour of the 100th anniversary of the first Kettle Valley Railway passenger train through Coquihalla pass on July 31, 1916. The railway line had been given official government sanction just a few days prior and Andrew McCulloch and some CPR officers rode westbound down the KVR on July 30th for their own personal celebration. Very little is known about the exact location of the "last spike", however it has been narrowed down to to an area just upgrade of the Ladner Creek bridge MP 36.8 and tunnel number 8 at mile marker 36.7.


Today, a small group of individuals, railroaders, retired railroaders, authors, historians, railfans and the general public gathered to mark the passing of 100 years. The line is long gone as are all the participants in making its construction a reality but it's history lives on through todays attendees.

As no official ceremony was scheduled to occur, much the same as in 1916, a dedicated group worked together to make an event take place. Two old railway spikes were driven securing a short length of 85lb rail into a solitary railway "tie" that somehow was left in place during the CPR Coquihalla Subdivisions abandonment and demolition in 1961/62. This last single tie would also have been in place on November 23, 1959 when the 'last' CPR train rode the line prior to a disastrous rain storm that caused multiple washouts and the permanent closure of the rail line.


Two prominent attendees were Barrie Sanford, author/historian and Joe Smuin, author/historian. Both men had stories to tell of the extreme hardships and enormous efforts of the CPR to keep the line open over the years. Barrie Sanford brought an important piece of memorabilia to the event. It was a "CPR" neck tie clasp, which Andrew McCulloch was presented with in in a small personal ceremony in September 1916 by a senior CPR official.

100 hundred years has come and gone but the stories and history of the KVR carry on.

Brian Peters, Surrey, BC
---
CP FA-2 4090 and FB-2 4469, both 1953 MLW-builds, sit near the Elko Station in Cranbrook, BC. Cosmetically restored to their original paint schemes in late 2014 by the Cranbrook Rotary Club. Photos taken by Braedan Dunne on August 12, 2015.
---
CN F7Au 9169 and snow plow 55436 sit and deteriorate slowly at the Prince George Railway and Forestry museum. 9169 was built as 9042 in June 1951 and was retired in December 1988. July 5, 2015. (Braedan Dunne).
BCOL 6001 is a GMD-built GF6C. Braedan Dunne shot her at the Prince George Railway and Forestry Museum. She was the first of seven built between 1983 to 1984, for use on BC Rail's electrified Tumbler Ridge Subdivision. All were retired in 2000, and were sent to Tacoma, WA for scrapping in 2004. 6001 was saved before the scrapper's torch could get to it, and was donated to the museum. According to the museum operators, the locomotive is still operational if 50kV of electricity can be supplied to it. Photos by Braedan Dunne. July 5th, 2015.
---
http://www.railwaymuseum.com/
CP SD40 5500 at the Revelstoke Railway Museum and was shot on June 29th, 2014 by Braedan Dunne.
http://www.rrpicturearchives.net/showPicture.aspx?id=3885846
---
www.kamloopsheritagerailway.com
---
http://www.wcra.org/
ANNOUNCEMENTS
REMINDER - HERITAGE PARK:
- This year the Heritage Park is operating on a modified schedule until
the end of March. All Exhibits open on the weekend but the Roundhouse only
during the week. Updated information is available on the website.

ANNUAL GENERAL MEETING
- The WCRA Annual General Meeting will be held on Tuesday, March 29, 2016
at 17:30 - Rainbow Creek Station in Burnaby.

A DAY OUT WITH THOMAS
- Returns in May again this year
- The "READY, SET, GO TOUR 2016" - 5 days over two weekends, MAY
21/22/23 and 28/29. Fares are unchanged from last year. Details on pg 10;
- TICKETS - Now available on the Website - Click the BLUE "Purchase
Thomas Tickets" Button on the home page @ top right corner.
Please visit our web site org for more info on how you can donate to this project and get her looking brand new again!
---
https://www.kettlevalleyrail.org/
On June 22nd, 1980 Kevin Dunk photographed a regularly scheduled steam excursion, but this time instead of CP Royal Hudson 4-6-4 #2860, we see southbound CP 2-8-0 #3716 rounding the curve at MP 18.8 Brunswick siding on BCR's Squamish Sub. with another load of happy travelers.
The# 2860 is currently undergoing major work at the WCRA Museum Shops while the #3916 sees regular work on the Kettle Valley Steam Railway near Summerland, BC.
---
http://www.rockymountaineer.com/en_CA_AB/
The Rocky Mountaineer excursion train "First Passage to the West" makes two trips per week from Vancouver to Calgary and return. The first day of the eastbound trip is from Vancouver to Kamloops, where passengers overnight in a hotel. The second day of the trip is from Kamloops to Calgary. On that 2nd day the train in the past normally stopped at Banff only, but in 2015, for the first time, it also stops in Lake Louise, at the old log station there, every Saturday, with a scheduled arrival time at Lake Louise of 18:30h. The Tuesday trip stops at Banff only. Cor van Steenis caught the train stopped at Lake Louise on Saturday, 20 June 2015, at 16:43h. The consist was GP40-2LW No. 8012, GP40-2LW 8016, Generator Car 9632, 4 coaches, 5 dome cars, a crew car and Generator Car 9271 on the tail end. The tail end generator car was built in 1955 by National Steel Car as CNR baggage car 9234 and acquired by RMR in 1996. It was the only car in the consist not painted in the purple, gold and white RM livery; it was in a solid purple paint scheme with gold lettering and a RM logo on the end. The scheduled stop time at Lake Louise was 10 minutes; a motor coach was on scene to take passengers onward on excursions. The 10 minute stop was lengthened to allow a westbound CP freight to pass. At 19:09h the train passed through Morant's Curve and at 19:53 it arrived at Banff.
---
http://www.nrhs.com/chapters/british-columbia
Coombs Tourism Siding Approved
The Alberni Pacific Railway (APR) has been given approval to construct a siding at Coombs. The siding will allow for the storage of historic rail equipment that will be used for interactive displays and marketing of the McLean Mill National Historic site at Alberni. It will also be used for railway motor car tours as a set on location. The APR is developing a plan for expanded motor car tours. To find out more about Alberni Pacific Railway click here
The Alberni Pacific Railway is a tourist railroad that is powered by a 1929 Baldwin 2-8-2T steam engine. It runs passengers between the restored Port Alberni station to the McLean Mill national Historic site.

The locomotives #7 a steam engine with passenger coaches and recently restored ex MacMillan Bloedel GE 44 Ton switcher #11. It was used this past weekend November 23 in the BC Institute of Technology's conductor training program.

Ken Rutherford
Director, Western Vancouver Island Industrial Heritage Society.
Port Alberni, BC
http://www.royalcanadianpacific.com/
CPR 4-6-4 Hudson #2816 IMAX "Rocky Mountain Express Pod Cast:
---
http://www.albertarailwaymuseum.com/
---
http://www.abcentralrailway.com/
http://www.railpark.org
The Wainwright Rail Preservation Society owns ex-CN GMD1 1404 and ex-CN FPB4 6861 and they created the Wainwright Rail Park and have a website which has their full contact info, galleries with 1404 and 6861, and other interesting items.
---
Alberta Prairie Railway ran its Consolidation 2-8-0 steam engine on September 6th, 2015 from Stettler to Big Valley, AB. and return, with 10 cars in the consist. The train runs on the line laid by the Alberta Midland Railway which opened on 06 July 1911. This railway had Canadian Northern as its parent company; later the line was owned by Canadian National and then Central Western Railway. In 1998 the right-of-way was acquired by the East Central Alberta Heritage Society (except for short sections in Stettler and Big Valley) and leased to Alberta Prairie Railway. At the terminus of the excursion run in Stettler we find a wonderfully restored and preserved Parrish & Heimbecker grain elevator, feed mill and coal shed. The elevator was built for Strong & Dowler in 1915 and sold to P&H in 1918; it closed in 2002 and was acquired by the P&H Elevator Preservation Society, who undertook all of the restoration work we see today. The elevator was repainted in 2013 from the P&H and harvest gold corporate colour introduced in 1991 back to the original red colour. (Cor van Steenis).
---
The museum has two MLW switchers: Ex-CP RS-23 8017 (ex- Saskferco - Belle Plain, Saskatchewan), and Ex-CN S13u 8704 (donated by CANAC).
The 1911-built CPR station from Bassano, Alberta on the Brooks Subdivision was moved by road to Beiseker, AB., on July 18-19th 2012 and sat beside its new foundation for 3 years while significant structural issues with the new concrete foundation were addressed.
On September 17th, the historic railway station in Beiseker, AB was destroyed by a fire over. A century-old train station that was planned to be the centrepiece of a railway museum northeast of Calgary went up in flames overnight. And investigators are working to determine whether the blaze was deliberately set. Firefighters were called after midnight Friday to the railway station in the village of Beiseker to respond to a blaze. When they arrived, they found the 104-year-old building engulfed in flames. Fire crews managed to douse the fire, but the south half of the building is burned right to the ground said Fred Walters, treasurer of the Alberta 2005 Centennial Railway Museum Society, which was working to restore the station.
Talking to insurance adjusters, they say it's got to come down Walters said. I don't think the insurance company is going to allow us to salvage it because of the amount of water damage inside the building. Sgt. Glen Demmon with the Beiseker RCMP said the cause remains under investigation but the fire is believed to be suspicious. There's no power to the building, Demmon added. Walters said the board members will have to discuss where they go from here. Mayor Ray Courtman said the building was vacant at the time and no other buildings were damaged or destroyed. It's quite unfortunate, Courtman said. We were kind of excited about this project. (The Calgary Herald)
---
The Aspen Crossing Railway excursion train runs 12 miles in each direction between Arrowwood and Herronton, AB., on the abandoned CPR Lomond Subdivision. The Aspen Crossing Railway excursion train runs 12 miles in each direction between Arrowwood and Herronton, AB., on the abandoned CPR Lomond Subdivision. The track goes from M0.0 (Eltham Junction) to M 22.5 (Arrowwod); Mossleigh is at M 15.3. The train station is located at Aspen Crossing, 1 mile west of Mossleigh. The train does not run on the first 10 miles of track of the Lomond Subdivision as the CPR stores about 400 grain cars there during the off-peak grain hauling season.
On 07 May 2016, the Aspen Crossing Railway placed its third motive power unit in operation, hauling its Prairie Tour Excursion Train across the prairies east and west of Mossleigh, Alberta. The recently-acquired unit is ex-CPR GP9u 1624. Built in 1955 by GMD as CPR GP9 No. 8515, Class DRS-17, it was equipped with a steam generator and larger fuel and water tanks for use in passenger service; its air tanks were located on the roof. It was painted in CPR's Tuscan and Grey paint scheme with block lettering; later it was re-painted with the script lettering, then the CP Rail scheme with large multi-mark and then the small multi-mark.
In 1986, it was chop-nosed and rebuilt by the CPR as GP9u No. 1624, class DS-17. CPR had it equipped with remote control belt-pack equipment. CPR declared the unit to be surplus on 28 April 2015; it was then acquired by Jason Thornhill of the Aspen Crossing Railway. It took some time to get delivery of the unit as the west end of the Lomond Spur, which provides the access to the Aspen Crossing Railway, was blocked by CPR's stored grain hoppers. The photos show the unit with its train on 14 May 2016, along with 9 cars, including the three stainless steel cars acquired by Aspen Crossing from the Ontario Northland Railway in October of 2015. ( Report by Cor van Steenis with his photos)
---
http://www.galtrailway.com/home/
https://www.southernprairierailway.com/index.php/en/
Ogema Heritage Railway Association
http://www.pdcrailway.com/
---
---
Photo credits of the railway operation photos goes to Michael Shufelt. Used with permission.
The goal is to buy and restore old Newfoundland railway motor cars and use them again on the little remaining track we have left on the island. As well, buy antiques from private collections and put them on display for people to see. As well as do track work to preserve what we have left to run on.

Being a narrow gauge railway, it is near impossible to get parts for the motor cars so everything has to be hand made as In cabs and more expense parts to make the motor car look the way it is supposed to. Right now we have one restored m19 and we have another m19 unrestored. A 4cyl Ford pinto motor car unrestored and a original Newfoundland railway pump car ( 2 known to exist)

Here a some stories ran by CBC as well as Buzzfeed. Visit our GoFundMe page to make a donation

Thanks. Contact me Trevor Croft
New St Jacobs Market Station News
A wonderful interview by one of our Directors, Dave Banks, speaking to Craig Norris from CBC Radio 89.1 on this morning's "Morning Edition" about our Canada 150 Community Infrastructure Program grant to help build our new St. Jacobs Market Station. http://tinyurl.com/hm7gj39
---
A NEW Thunder Bay Transportation Museum in the works! http://tinyurl.com/j9ymbeh
On January 12th 2015, 12 city council members voted to approve the formation of a heritage transportation committee for the purpose of investigating the possibility of the creation of a transportation museum in Thunder Bay. Our city is one of the pivotal transportation hubs in Canada and we have a rich and diverse history. From the First Nations Peoples and voyageurs who used the canoe, to Great Lakes shipping, rail and aviation, Thunder Bay has been a recognized leader in transportation in Canada.
Thunder Bay also has a rich history in the manufacturing field producing war planes during the Second World War. During the post-war boom of the 1940s and 50s Fort William manufactured Brill transit trolleys that were used across the country. Port Arthur was the first city to build a unicipally-owned street car system in Canada and the list of firsts goes on and on.
We believe that its time for Thunder Bay to have its own place to showcase what we have accomplished for the world to see.
The first meeting of the heritage transportation committee was held at 7 p.m., on Feb. 18th at the Unifor Union Hall at 516 S. High St.
Anyone and everyone with an interest in any form of transportation is welcome to attend and participate.
http://www.bytownrailwaysociety.ca/about.htm
http://www.chathamrailroadmuseum.ca/
---
---
http://www.creditvalleyexplorer.com/faqs.php
The Credit Valley Explorer at times will run with a dome, and they also have an unpowered RDC-9 used as a coach. .
Cando's popular Credit Valley Explorer out of Orangeville, Ontario, is now operating with a Budd-built Dome! Originally Wabash 202, then Norfolk and Western, and finally Amtrak, the car has been totally refurbished. It is a big hit with passengers, and is seen here on Sept 27 at Orangeville, and during a brief pause at Cataract. (Steve Bradley photos).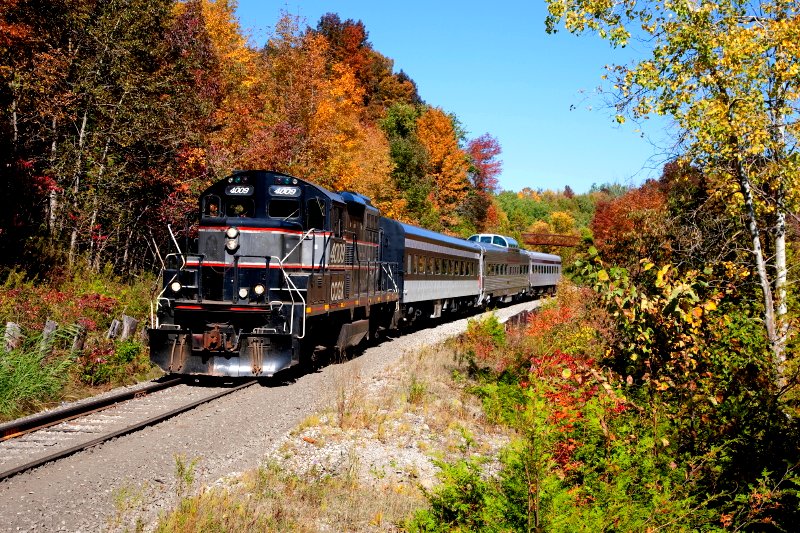 ---
Owen Sound's Rail and Marine Museum reopens: http://tinyurl.com/hwts2ls
Ex-CN Dining Car arrives August 17 2015 (Photos Barry Westhouse) http://tinyurl.com/jqb2x3w
Some History:
The operators of the Marine & Rail Museum have set the wheels in motion to bring a 60-year-old train car to Owen Sound. Richard Thomas, president of the Community Waterfront Heritage Centre, told city council Monday night that the 1954 former Canadian National Railway dining car would make a great addition to the west-side museum, which is housed inside of a former CN train station. This is a bit up in the air at this point. It's going to take a bit of fundraising to bring the car to Owen Sound and then of course we will have to take a look at the tracks and where we want to put it he told council during a delegation. Thomas said the car, which a CWHC board member spotted in another Ontario community, is available free of charge to whoever is willing to pay the bill to move it. A preliminary estimate has pegged the cost to transport it to the museum in Owen Sound at about $20,000, he told council.
The CWHC plans to launch some fundraisers to cover that cost. Thomas said the outside of the train car needs a paint job, but the all-original interior is in good shape and has a working kitchen and full dining area. It would fit in nicely with the CWHC's plan to make food available at the museum property, he said. A stretch of railroad tracks from the days when the city-owned former CN building was a train station were left on the museum property. A 104-year-old train car, which was converted into a caboose in 1947 and was once a birthday party venue at McDonald's Restaurant, now sits on the track. Thomas said the CWHC would like to see the dining car join the caboose on the tracks.
It is one of the two large exhibits that the CWHC hopes to bring to the museum in the near future. The other is a lifeboat that was once aboard the MS Chi-Cheemaun ferry and is now sitting in storage. City Coun. Peter Lemon said bringing the dining car to the museum would be a "dream come true" and would help to make the facility even more of a destination on the west side of the harbour. The greater the mass of displays you have outside, the more people it will attract to the museum, he said during the council meeting. Thomas said the CWHC would have to tweak its lease agreement for the CN station with the city before the train car arrives.
---
---
The Elgin County Railway Museum is using local resources to help raise enough funds to construct a badly needed roof at its 225 Wellington St. facility.
Partnering with the Elgin St. Thomas Community Foundation (ESCF), the museum is utilizing a managed fund the foundation will invest and the museum will use the money toward the application of matching grants. These government grants will be needed to offset the cost of the roofing project, estimated at $1.6 million.
"Our Full-Steam Ahead - Phase 1 Capital Restoration fundraising campaign is building momentum," said Dawn Miskelly, Elgin County Railway Museum executive director.
Since the roofing project is so cost prohibitive, Miskelly said the initiative will be done in phases. The first phase will focus on the centre roof portion, estimated to cost $570,000. This, she advised, will open up more of the building's square footage to the public. Presently, the museum only uses about 25% of the building's square footage for public use.
"The centre block of the roof would open up about 35% of the building's footprint," she added. "We could use this for public programming or special events."
In 2014, the Elgin County Railway Museum contracted SJMA Heritage Architect Ed van der Maarel to develop a restoration plan for the building. The total cost of the entire Phase 1 of the restoration plan is estimated to be $6.11 million. This represents the amount needed to fully restore the building including a new roof, windows, brickwork and restoration of significant features within the building.
Full story here: http://tinyurl.com/zjh57sv
---
The Niagara Railway Museum Inc., located in the former CNR diesel shop at 21 Warren St. in Fort Erie will be holding their Fall Railway Days at theshop. New displays and exhibits, model railways, and historic artifacts.
The Museum features equipment historic to the area, including steam, diesel and electric locomotives, small track equipment, and other displays. Admission is by donation, and the event runs rain or shine.


---
Locomotive, Rail Cars Damaged at South Simcoe Railway
Canadian Pacific Railway historic locomotive and rail car interiors damaged on the South Simcoe Railway in Tottenham, Ontario. Provincial police are investigating after vandals damaged a train at the South Simcoe Railway.
According to Nottawasaga OPP, an unknown number of suspects vandalized a locomotive and two rail cars at the historic Tottenham location.
Police say the suspects broke several windows and damaged or destroyed antiques in one of the cars.
Full story here; http://tinyurl.com/guhw7ch
The Cape Race is now lettered CANADIAN PACIFIC and is on display at the Roundhouse Museum in Toronto. Photos courtesy of Bob Merriam who painted it shared his photos with us.
The Cape Race was built for the Canadian Pacific Railway in 1929 as the River Liard. The car was one of a series of 15 River cars fabricated at National Steel Car in Hamilton for $66,300 apiece. The opulent interiors were finished at CP's Angus Shops in Montreal and featured individual ladies and gentlemen's showers, leather-upholstered smoking rooms, ladies lounge and observation parlour as well as a small buffet to serve snacks and beverages.
Instead of the traditional open observation platform on the rear, the cars featured a high-windowed solarium furnished with eight leather chairs. In an era long before exposure to the sun's ultra-violet rays was considered harmful, CP promoted these solarium-lounge cars with their health-giving VITA GLASS Sun Parlors. The River cars were unusual in that they contained no revenue-producing space; they were completely for the comfort of passengers occupying space in other sleeping cars. The cars were built primarily for CP's Trans-Canada Limited, an all-sleeping car train between Montreal/Toronto and Vancouver that ran in the summers only between 1919 and 1930. In the winter, the cars operated on the Toronto-Vancouver Dominion as well as other CP trains. In 1931, due to the deepening Depression, CP cancelled the Trans-Canada Limited and mothballed most of the River cars since they were too expensive to operate.
Michael Berry photographed preserved CN GP7 4803 on December 26th 2014 on display at the Toronto Railway Heritage Centre, located at the former CP John Street Roundhouse, in downtown Toronto
http://www.railpictures.net/viewphoto.php?id=512466&nseq=0
---
Thousands of dollars in vandalism done to York-Durham Heritage Train in Uxbridge.
---
http://www.northernontariorailroadmuseum.ca/
http://www.imagescn.technomuses.ca/
http://www.imagescn.technomuses.ca/railways/index.cfm
http://www.palmerstonrailwaymuseum.ca/
http://www.southsimcoerailway.ca/
http://memoryjunctionmuseum.ca/

Some pictures of the progress on the renovations... http://tinyurl.com/hxtatmz
---
Exporail, the Canadian Railway Museum will be open to the public every Saturday and Sunday 9:00 a.m. to 5:00 p.m. for the month of April. The outdoor site will be closed.
Complete 2017 Program available on our website www.exporail.org
Exporail now accessible by AMT Train WEEKDAYS only from downtown Montreal!
Visitors to Exporail can now travel by AMT commuter train (weekdays only) and spend either 3 or 6 hours visiting. It is important that you get all the details from our website -www.exporail.org - click English (top right), click access, click on more information, click on by train and follow the instructions.
Rocky Mountain Express IMAX film (full length feature movie featuring steam locomotive 2816) now showing in the Exporail mini-theatre! (Modest $ 4 up-charge applicable). The English presentation is at 1:30 PM
April 1 to April 30: Circus Train
To get into the mood of circus, the visitors will see several posters and three
beautiful miniature train layouts crafted by Guy Beausoleil, Jacques Brouillette and Stan Smaill. After that, they can climb aboard the Canadian Pacific Neville sleeper car and discover how circus staff and performers travelled during the last century. Tours of the sleeper car will be presented in English at 11 a.m. 1:30 p.m. and 3: 30 p.m.
While visiting the Grand Gallery search for the circus people and animals hiding on various vehicles. Join the Ringmaster and participate in fun activities for children:
Juggling with Chinese spinning plates, balls and diabolo, presented at 11 a.m., 2 p.m. and 3:30 p.m.
The March - April issue of Canadian Rail features the story of the railway ferry between Prescott, Ontario and Ogdensburg, New York. Ted Wickson, photographer (who donated his collection to the CRHA Archives), Photo Gallery; plus the usual Heritage Business Car. Canadian Rail is mailed to CRHA members and is available at better hobby shops across Canada
Canadian Rail is mailed to CRHA members and is available at better hobby shops across Canada. Canadian Rail is mailed to CRHA members and is available at better hobby shops across Canada.
Rocky Mountain Express

Rocky Mountain Express IMAX film (full length feature movie featuring steam locomotive 2816) now showing in the Exporail mini-theatre! (Modest $ 4 up-charge applicable). The English presentation is at 1:30 PM
---
The Hull - Wakefield Steam Train with CPR G5a #1201 video from 1982.
https://www.youtube.com/watch?v=ALUvHLrgM6Y
---
http://www.orfordexpress.com/en/home.htm
---
http://pages.globetrotter.net/burridge/QCR_Main.html
CP Valley Junction Station fund drive:
http://player.vimeo.com/video/64576762
---
(Le train du Massif de Charlevoix)
http://www.lemassif.com/en/train
Latest News Here: http://tinyurl.com/zlrds8a
http://museum.gov.ns.ca/moi/en/home/default.aspx

http://memorylanerailwaymuseum.com/

http://www.novascotiarailwayheritage.com/orangedale.htm

http://dardpi.ca/wiki/index.php?title=CPR1275
With Gary Southgate's permission, (who owns these two passenger cars) RPCX 5307 and TPCS 5302 were shot at the Saskatchewan Railway Museum near Saskatoon, Sask. on Sunday November 27th.
---
At the railway museum in Danbury, CT , Roman Litarchick snapped the only MLW FPA4 / FPB4 in Zebra stripes. Even with the nose logo is a little wonky on CN 6786, we may rejoice as at least one MLW FPA4 / FPB4 are in this great paint scheme! It was taken in January 2014.
---

On April 16th, 1977, Gil Ford shot D&H GP39-2 7601 leading train CX-1 up the grade in Lanesboro, PA on the D&H Penn Division. The train has tail end pushers and will now slowly pass beneath the impressive arches of the Erie-Lackawanna Railroad Starrucca Viaduct. Note the uniquely D&H standard double track signal mast located to the right. In this photo, the mast and signal box appear to have been recently repainted.
On the rear of the same train (D&H CX-1), is another great looking Alco pusher set. A pair of ex-Leigh Valley C420's (D&H 409 and 411 still in LV Cornell Red, with D&H patches), are shoving the tail end of CX-1 up the grade in Lanesboro, PA on April 16th, 1977. (Gil Ford photos).
The Adirondack Scenic Railroad currently operates between Utica and Big Moose and between Saranac Lake and Lake Placid. The Adirondack Railway Preservation Society, which operates the railroad, wants it to become a continuous ride from Utica to Lake Placid.
The Adirondack Recreational Trail Advocates wants 90 miles of recreational trails to support activities such as biking and snowmobiling.
As a compromise, the state departments of transportation and environmental conservation proposed plans that would entail rehabilitating railway between Big Moose and Tupper Lake, and ripping up tracks between Tupper Lake and Lake Placid to implement a 34-mile recreational trail.
---
---
---
The National New York Central Railroad Museum, located in Elkhart, Ind., recaptures the glory days when the America's railroads were symbols of progress and goodwill ambassadors across the country.
This group is restoring the Skytop parlour-observation car "Cedar Rapids", similar in appearance to the ex-Milwaukee sleeper-observations once used by CN. You may be interested in supporting them.
http://www.yelp.ca/biz/ironhorse-central-railroad-museum-chisago-city
---
http://www.fostoriairontriangle.com/
https://www.facebook.com/MarionUnionStationAssociation/
Built 1902 Marion Union Station now serves as a railroad museum and train watching spot. Check their Facebook page for times and direction
http://www.madrivermuseum.org/
The Mad River & NKP Railroad Society, a non-profit organization, chose this as part of our name when we formed. In 1976 we opened the museum as a lasting bicentennial project. Henry Flagler, who built the Florida East Coast Railroad once lived on the property where the museum is now located.
Lake Shore Railway Society General Electric Dash-7 Locomotive
CSX #5554 is restored as C&O #8272 and donated to Lake Shore Railway Historical Society
NORTH EAST, PENN. -- Lake Shore Railway Historical Society is pleased to announce it has received a donation of a restored Chesapeake & Ohio "Chessie Cat"-era locomotive, C&O #8272, courtesy of CSX Transportation, Inc.
The 1980 Erie-built General Electric B30-7 locomotive, CSX #5554 (retired in 2009), received cosmetic restoration and has been returned to its 'as-delivered' C&O "Chessie Cat" paint scheme by the talented craftspeople of the CSX railroad shops in Huntington, W.V. CSX has donated the renamed C&O locomotive #8272 to Lake Shore Railway Historical Society where it will become part of the museum's educational programming and display. At Lake Shore Railway Museum, operated by the Lake Shore Historical Society volunteers, C&O #8272 will join seven (7) other General Electric locomotives in the "Locomotives that Dad & Grandpa Built Collection."
Ray Grabowski, Jr., president of Lake Shore Railway Historical Society, said "It is amazing what the dedicated professionals at CSX's Huntington shops have accomplished. On behalf of Lake Shore Railway Historical Society and our entire community, I want to thank everyone at CSX for this incredible gift, especially the skilled craft workers who contributed to make the donation happen."
http://www.nps.gov/stea/index.htm
http://www.museumoftheamericanrailroad.org
Founded in 1982 the museum is devoted to the railway heritage of the USA. This is their latest project: The corporation purchased former CN F9A 9167 from NRE in Silvis, and it is becoming Santa Fe F7A #49 in full red and silver Warbonnet paint:

http://www.museumoftheamericanrailroad.org
---
Two former CPR Pacific steam locomotives, 1238 and 1286 have been stored in Virginia for years, apparently in good shape! The owner passed away a few months ago. http://tinyurl.com/h3w7mzq
---
http://www.milwelectric.org/2013/11/whats-next-for-the-5057/
---
Copyright CRO April 2017 Contact Us Regarding Advertising or Errors